About Lubi
When it comes to the science of pumping, Lubi pumps present smart, sturdy and sustainable pumping solutions with over 50 years of unmatchable experience and expertise for applications in Industries across the spectrum.
We are able to provide our customers with top quality, competitively priced products because we have vertically integrated our manufacturing. This means that from design and engineering to manufacturing of components, assembly, testing and final finishing and packaging, everything is done within our various manufacturing facilities. This allows us to closely control the quality of our products and keep costs down. We are also able to deliver products on time to our customers because we have a large manufacturing capacity.
Our wide range of products is capable of meeting the needs of a variety of applications, making us a go-to choice for many customers.
1
Our Strength
We provide pumping solutions from more than 5000+ different models of pumps which can be customised in raw materials or design based on the field application.
2
Our Network
We are proud to have a large and comprehensive network of more than 20 branch offices across the country, covering every nook and cranny of the country. Our reach extends beyond our domestic borders, with exports of our products to more than 80 countries around the world.
3
Our Goal
Our aim is to provide a Comprehensive Pumping Solution to the customer with Quality Products which are Priced Competitively, delivered On Time and have the Lowest Life Cycle cost, supported by impeccable After Sales Service.
Our Company
We, at Lubi believe in continuous development of newer, better-quality products & we want to become a one stop solution provider & provide the complete package to all our clients & customers.
Hence, we are diversifying into many industries such as
1.Valves
2.Solar
3.EV Solutions
4.Fire & Electrical Panels.

We strongly believe in the "Make in India" movement & hence all the industries into which we are diversifying & building them is all manufactured here in India.
We also are continuously working in design & engineering of wide variety of pumps & motors & continuously redeveloping our existing range in order to increase performance, efficiency and also try in reducing the overall cost of the product such that it can be made available for a wide range of customers.
We are committed to the "Green Energy Movement" & hence many of our products are certified through agencies like Bureau of Energy Efficiency (BEE). We are also offering a wide range of sustainable Alternate Energy Pumping Products such as Solar Submersible & Monoblock Pumpsets.
Our motto is: "The customer should always get the best product, best service and most importantly the best quality in a minimum period of time."
This is where the standard set by the industry help us to maintain the uniformity & quality of our products.
We are committed to After Sales Service and understand that it is one of the most important part of our business model.
In view of this we have a Customer Care Number : 9824200800, where customers can register service requests. These service requests are promptly addressed by our team of Locally Designated Service Partners or by Head / Branch Office Service Technicians to close the service request as soon as possible.

Authorized Service Center
Our Culture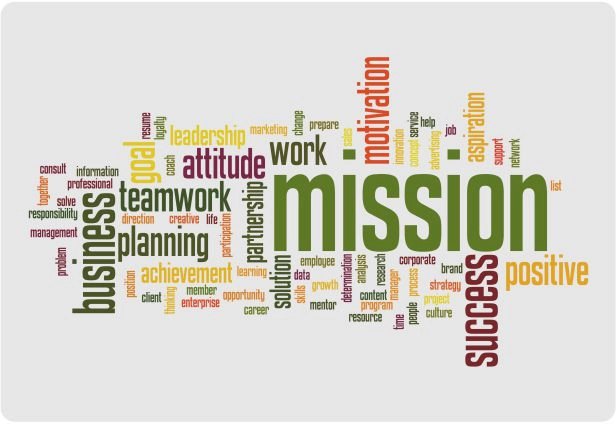 We at Lubi, have a vision to develop a wide variety of pumps & motors designed with the latest technology & can be used for wide variety of applications not only limited to water but also can be used & suitable to chemicals, coolants & various other liquids.




We want to become one of the top manufactures & sellers of pumps & motors in India & also aim at being one of the topmost exporters in the country.




Also, we aim at diversifying in many more fluid related industries & also into the electronics industry where our pumps & motors can be carefully & efficiently integrated alongwith electronic equipment's – such as pump control panels, VFD drives, solar invertors etc.




Also, we aim to dominate in the EV charging business by supplying, installing & providing services throughout India. We also aim at making Charging Stations on various highways in the near future.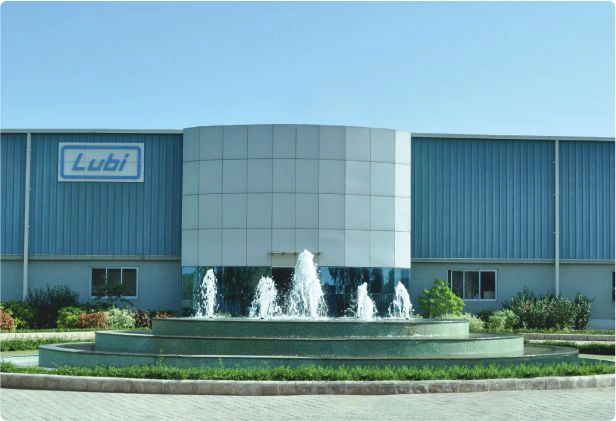 INFRASTRUCTURE
We believe that a products performance & quality is only as strong as the companies infrastructure & manufacturing capability & capacity. Even the best of designs can be ruined with poor manufacturing infrastructure.




Hence, we have 18 state of the art manufacturing facilities in India using modern & high technology machinery comprising more than 350,00 sq. mt. of floor area to manufacture the entire range of products offered by Lubi.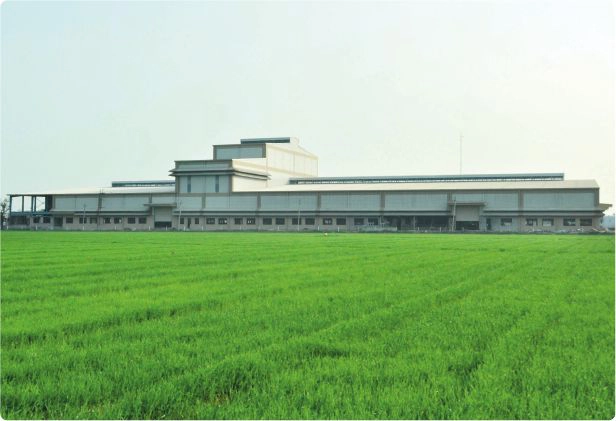 We have established branch offices and manufacturing facilities in various countries across the world, giving us a global footprint for our operations.
All the manufacturing facilities are

ISO 9001 (Quality Management System), ISO 14001 (Environmental Management System), ISO 45001 (Occupational Health and Safety System) certified.
Management Systems by

TÜV SÜD

, Germany With a manufacturing capacity of 700,000 pumps per annum we are able to cover more than 5000 different models.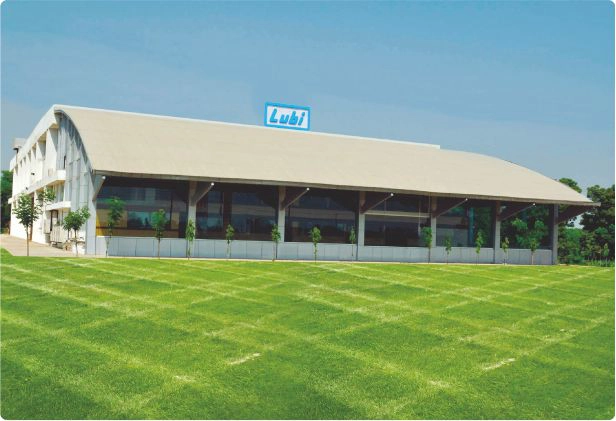 We also have a Design and Engineering Department employing 50 full time Engineers who work towards providing Design and Engineering related support for our Products and Manufacturing Processes used in our factories.




We have a team of more than 2500 dedicated employees to run our operations.




With over 22 branch offices across India, we ensure prompt delivery for all your orders. We have a marketing network that covers every state in the country so you can be confident about getting top-notch customer service and fast-moving products no matter where they're needed most!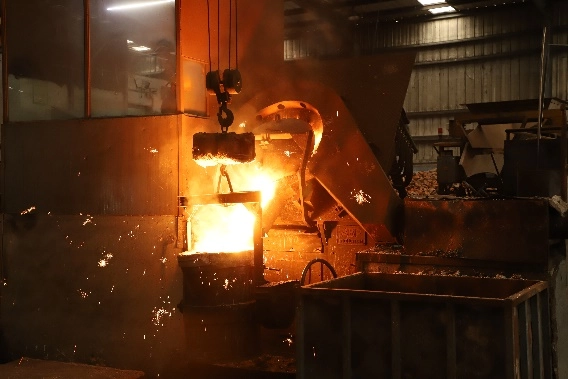 FOUNDRY
We have our own state of the art foundry which has a capacity of 1000 tons / month.




All the aluminium patterns, core-boxes, dies etc. are developed inhouse & hence, quality of casting moulds & dimensional accuracy is strictly maintained within the tolerance set by the industry.




We have a sandplant of ____ cubic meter capacity.




We have four different moulding lines of Disa, Sinto, Omega & Arpa which are used to manufacture casting from smallest to largest sizes of components.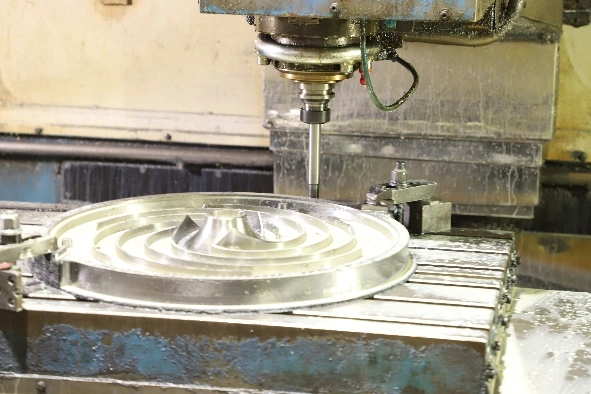 All these high-tech machineries alongwith skillful labour & strict inspections & supervisions helps us produce high quality, custom castings for our products with superior surface finish.


We also have state of the art Aluminium Die Cast Machines to manufacture various Aluminium Components which are used in our products.




We also are in the process of developing a new foundry having the latest machineries so that our increasingly demanding products can be supplied faster & at a shorter lead time.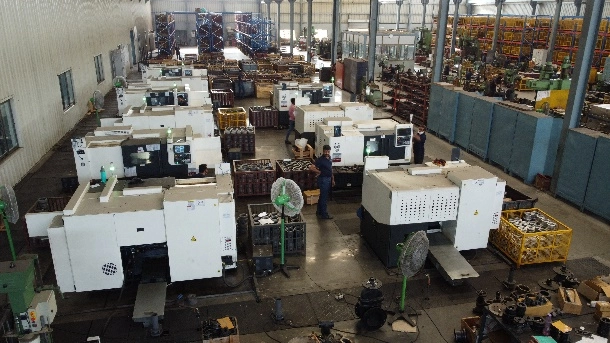 MACHINE DIVISION
We have a separate centralized Machine-shop incorporating the best quality & high-tech machines such as CNC's , VMC's , HMC's etc. This helps us in high quality, productive and precise machining of components for our products.




To ensure that the components dimensional accuracy remains within the tolerance of standards we follow; we have a Mitutoyo CMM (Co-ordinate Measuring Machine) which can measure dimensions with an accuracy of 2.6 microns.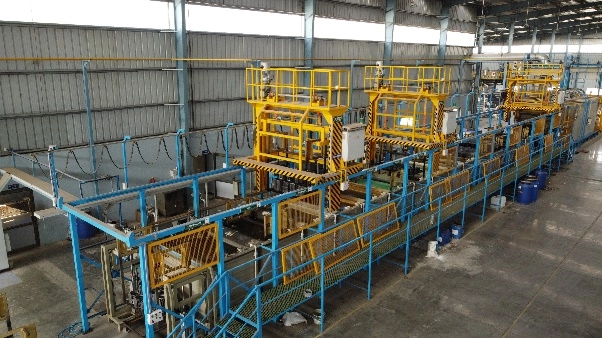 CED COATING DIVISION CED
All of our casting components are having CED (Cathode Electro-Deposition) Coating treatment done after machining. For this we have a separate plant having two individual CED Coating lines.




CED Coating helps in our product having better rust & corrosion resistance towards various liquids.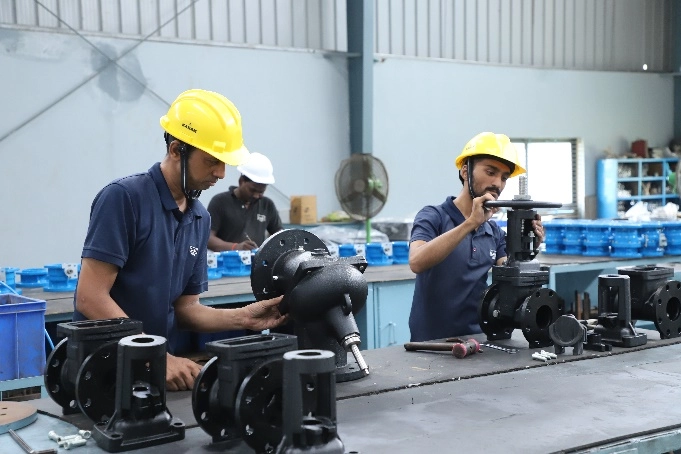 ASSEMBLY UNITS
We have 9 individual Assembly Units which have been bifurcated according to the product types we manufacture.




The Automated Assembly Lines are used for high productivity & quality of our products.
INJECTION MOULDING DIVISION
Our own Engineered Plastic Injection Moulding Machines & Ultrasonic Assembly machines are being used in manufacturing various components used in our products. All products are thoroughly tested for their strength & quality before being dispatched.

ELECTRICAL CABLES DIVISION

The Electrical Cable manufacturing division has the machinery & ability to manufacturing both 1-phase & 3-phase cables with a capacity of 3,50,000 meters / month.

This helps us in making majority of the components used in making our pump & motor – pumpset made by us & hence "MADE IN INDIA".
VALVES DIVISION

To expand our business even further & the advantage of having our own foundry & Machine Division, it helps us in diversifying into the Industrial Valves Business.
In the Valves Segment, we aim to achieve great quality products at affordable pricing. In order to sell our valves in all types of industries, we have planned to get our Valves IBR certified for Boiler applications & also UL / FM Certified for Fire applications.
W we also have constructed a separate manufacturing facility solely used for manufacturing various types of Valves & have separate Design, Sales & Manufacturing manpower which is focusing solely towards Valves.
ELECTRONICS & EV SOLUTIONS

With the increasing expansion of India in Electronics & with the future being shifting towards Electric Vehicles, we have started designing & manufacturing of various Electronic products & EV Chargers.

We also are getting our products certified by ARAI so that it is safe for both Commercial & Residential use.

We also, have started manufacturing Electrical Panels & Fire panels which can be integrated with pumping systems & pump controllers for controlling the pumping equipment in commercial buildings through BMS (Building Management System).
QUALITY MANAGEMENT

CMM
We have state of the art Mitutoyo make CMM (Co-ordinate Measuring Machine) which can measure dimensions with an accuracy of 2.6 microns.

This helps us in maintaining machining precision & the quality of the component & the final product.

NABL Certified Laboratory
To ensure correct & accurate testing is carried out at our facility, we have got our Testing Laboratory NABL Certified (National Accreditation Board for Testing and Calibration Laboratories).

This helps us in testing prototypes as well as routine production pumps with high accuracy & helps us in giving the customers / clients, the actual pump performance which they require.

UL / FM Certified Products
Many of our Industrial Fire Fighting Pumps are UL / FM Certified. Hence, we are also maintaining a very strict criteria in making & testing our pumps such that they abide by the manufacturing as well as testing methods specified by the above mentioned standards.

CE Certified Products
We also have our products CE certified & hence we are also able to sell in the European Markets by abiding with the Health, Safety & Environmental Protection Standards.
Our History
The history of Lubi Pumps is one filled with important milestones. The journey started way back in 1965 when the first Lubi pump was manufactured in Ahmedabad, Gujarat. Today, Lubi pumps are exported to more than 80 countries and enjoy a huge market share in India. The brand has come a long way since its humble beginnings and continues to set new benchmarks in the pump industry.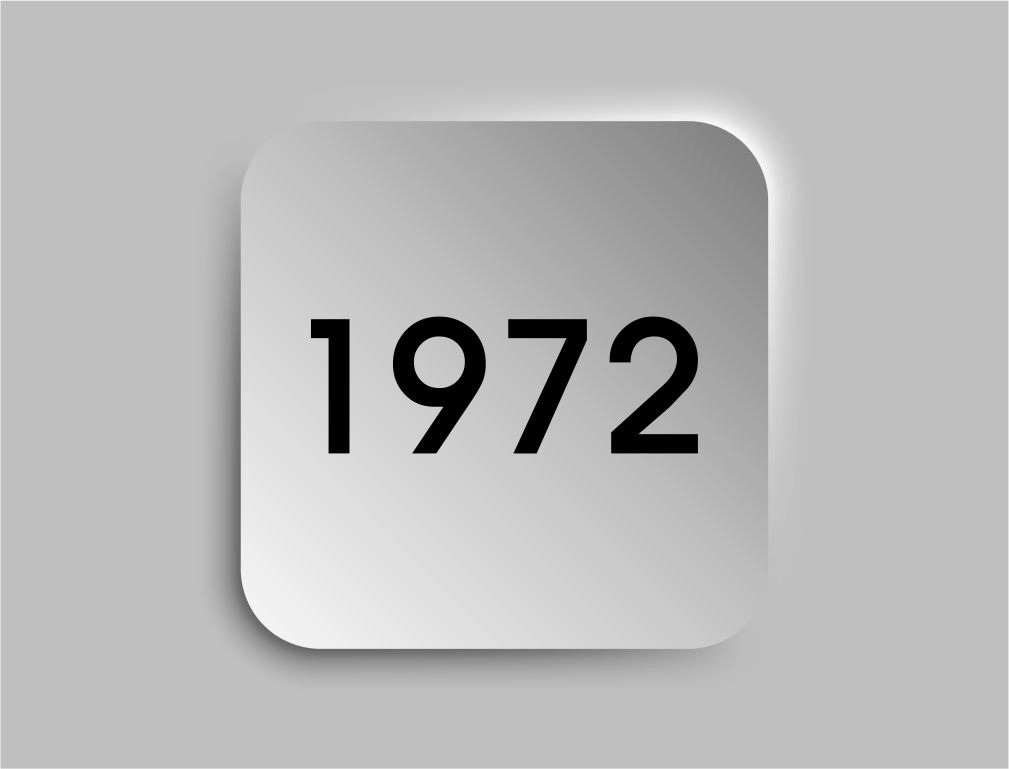 Exports of castings and builders hardware to UK & USA.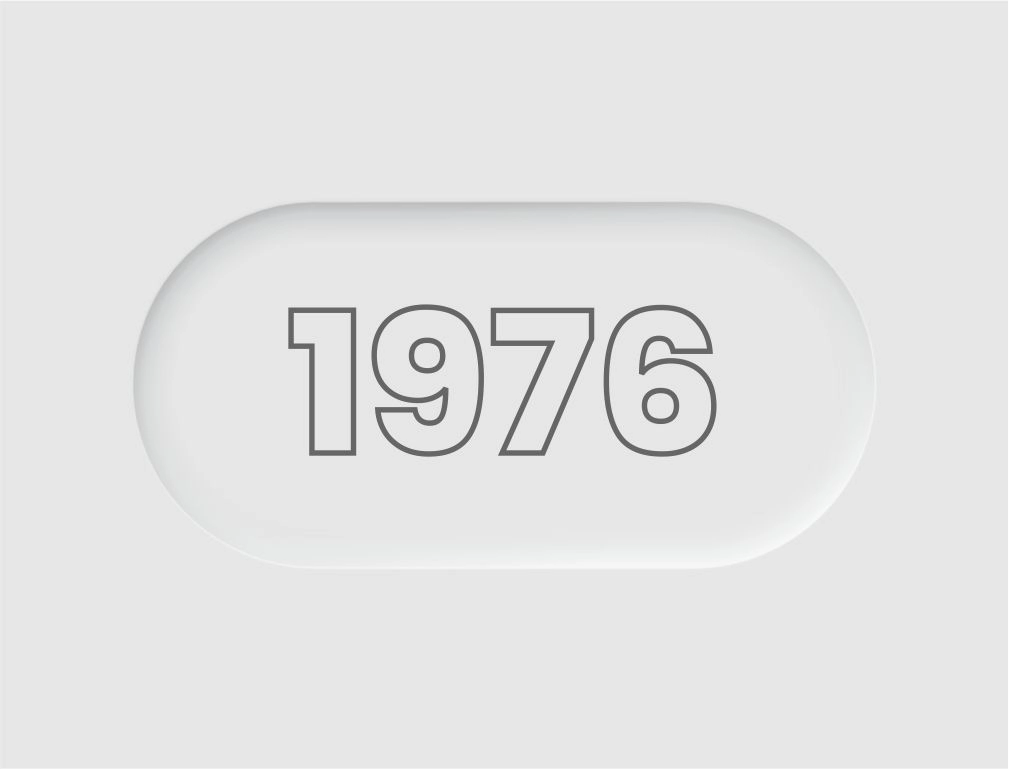 Introduced range of close-coupled electric pumps and electric motors under the brand name of Lubi.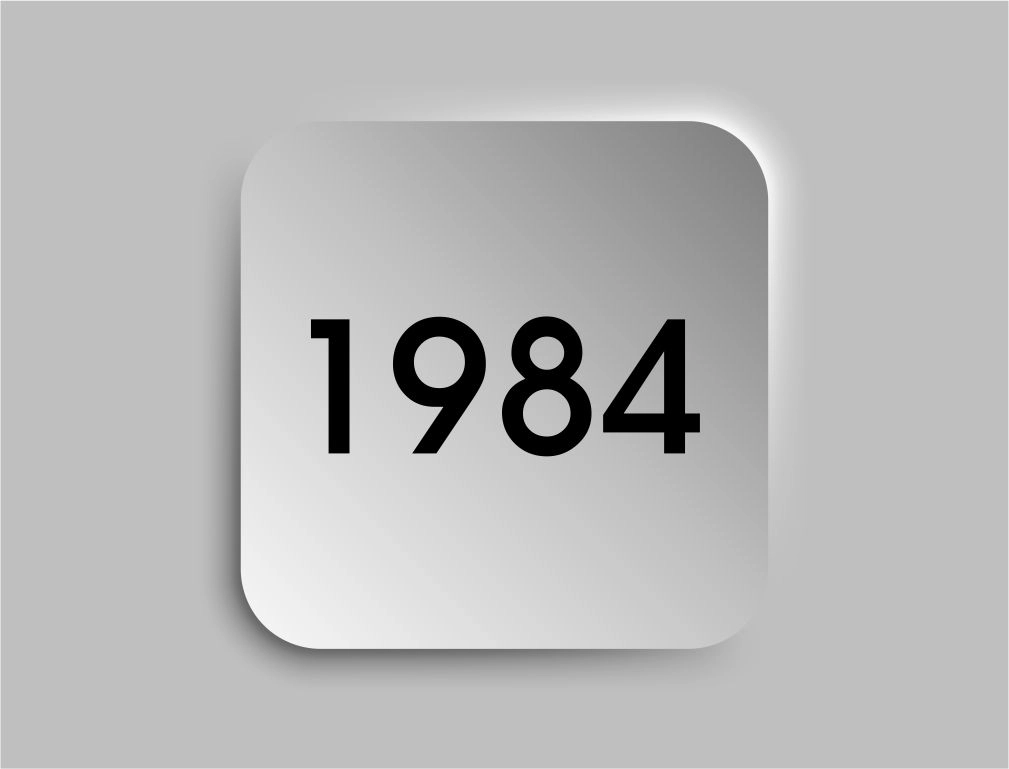 Introduced a range of submersible pumps for 6″ & 8″ Borewell.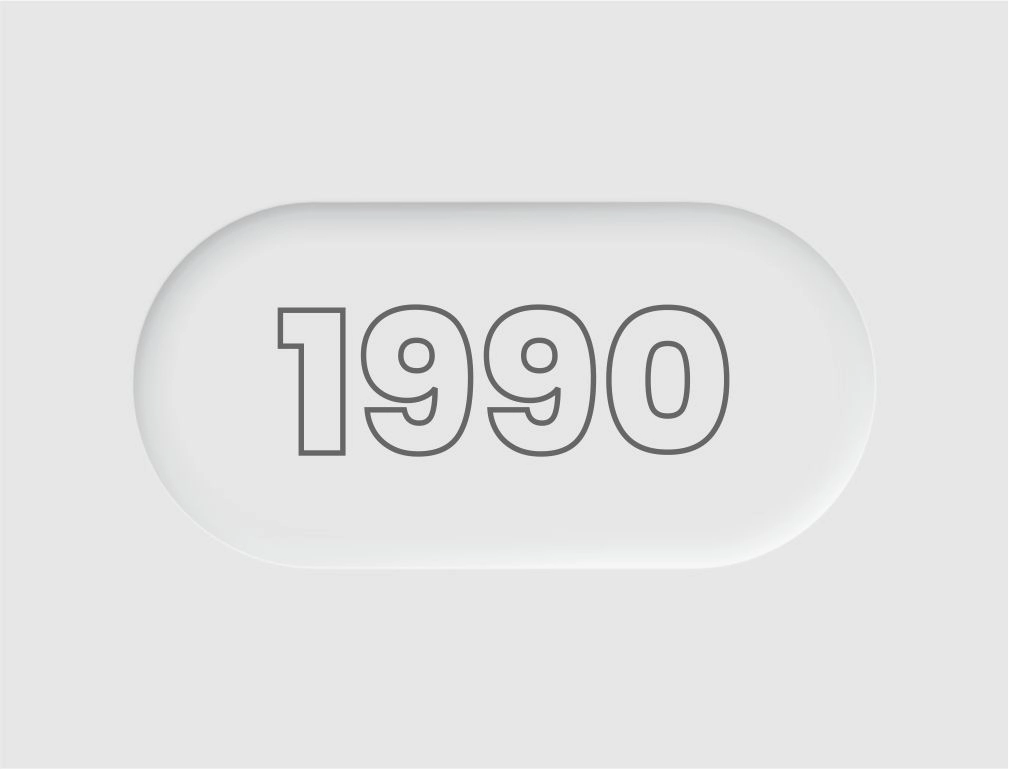 Introduced a complete range of small household single-phase peripheral centrifugal pumps​.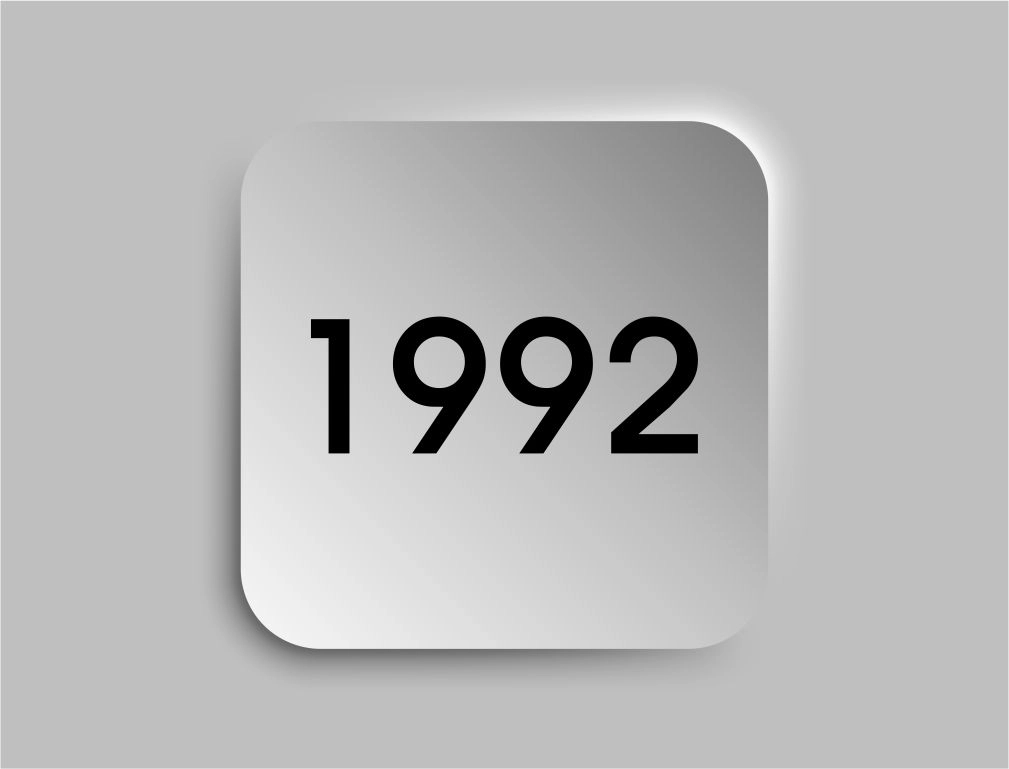 First company in India to introduce a complete range of indigenously developed submersible pumps for 4″ Bore well.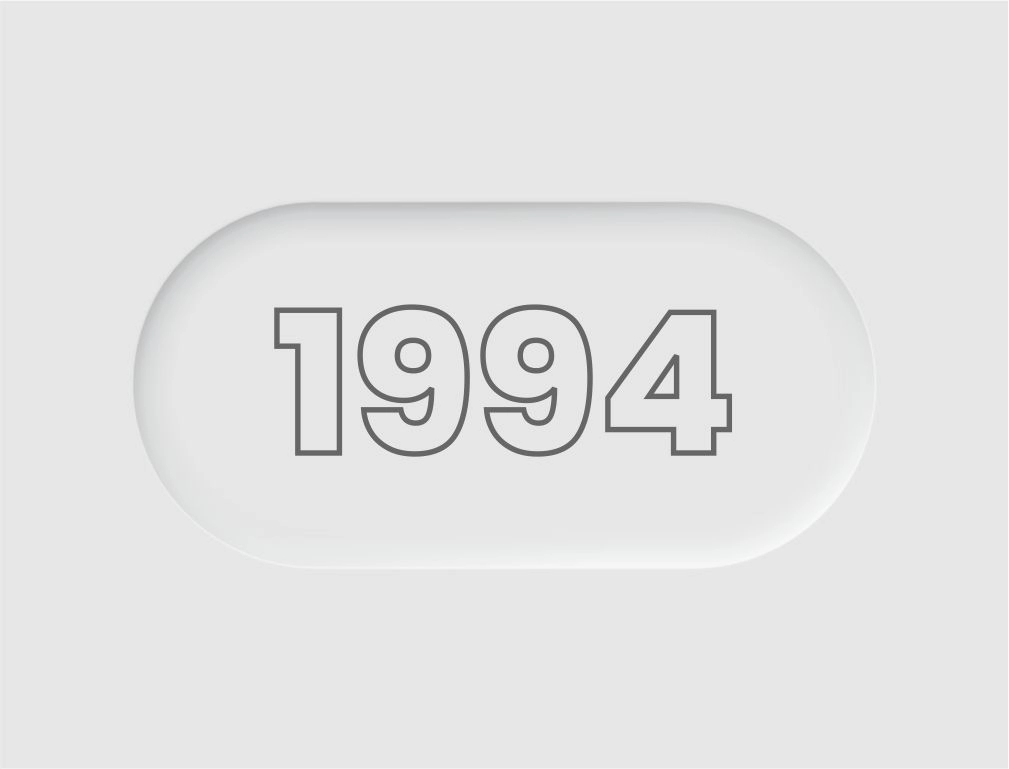 Introduced a range of submersible pumps for 10″ bore well​.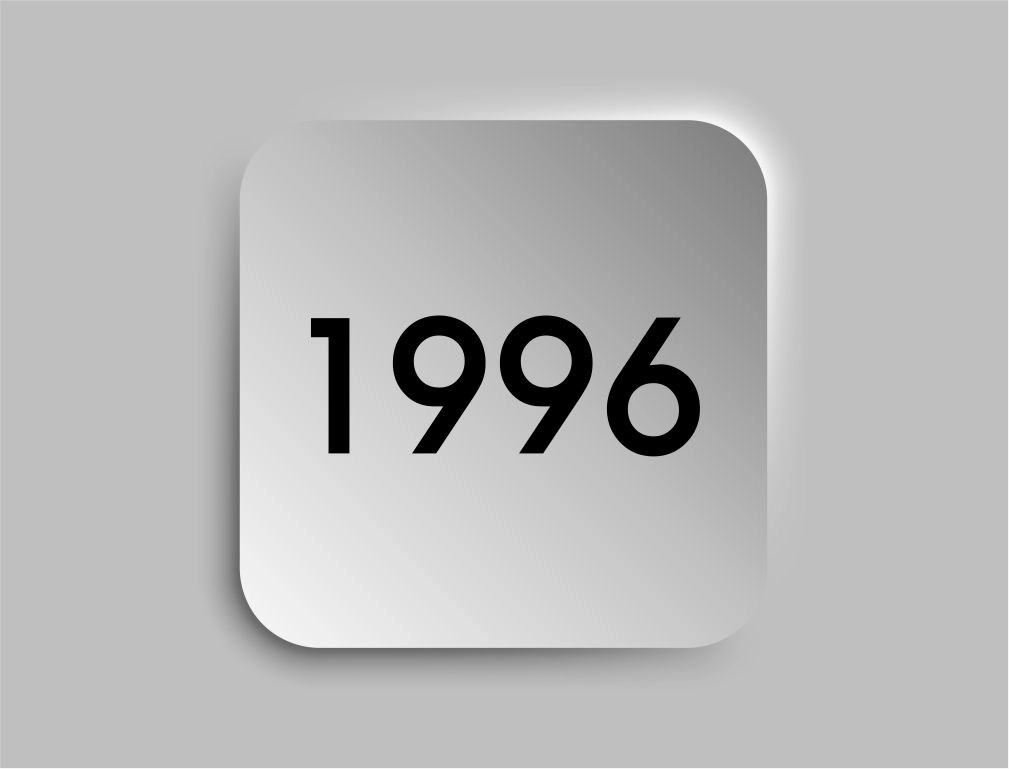 Introduced a complete range of Dewatering pumps.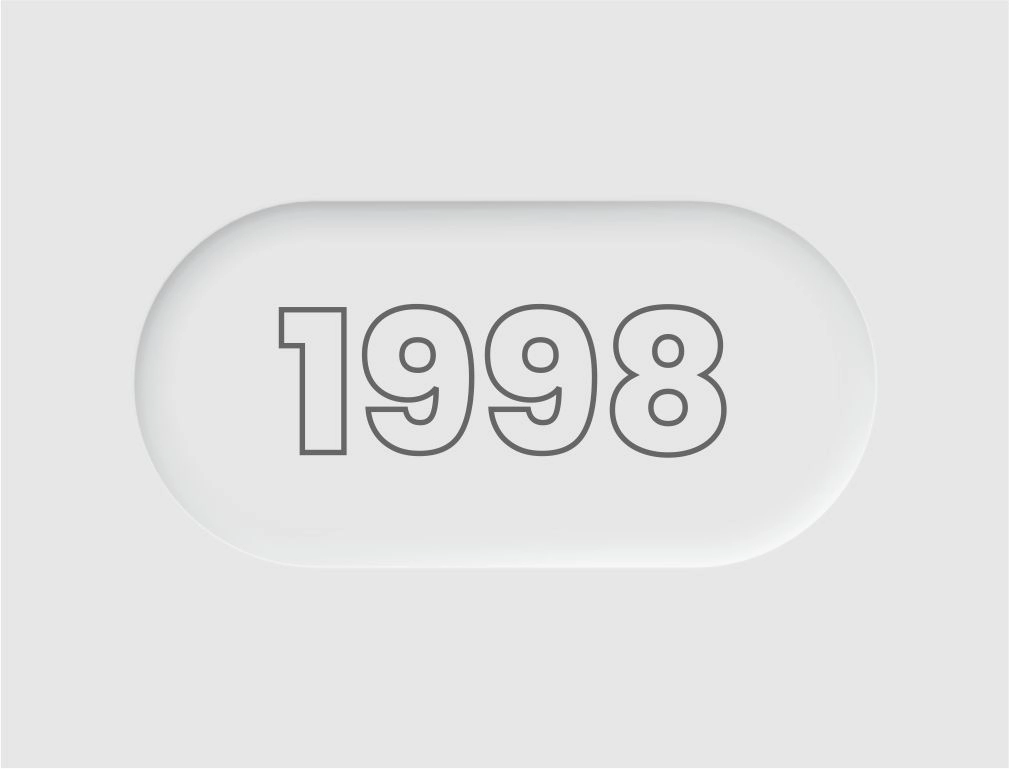 Submersibles pump Division was awarded ISO 9002 certification by TUV, Germany.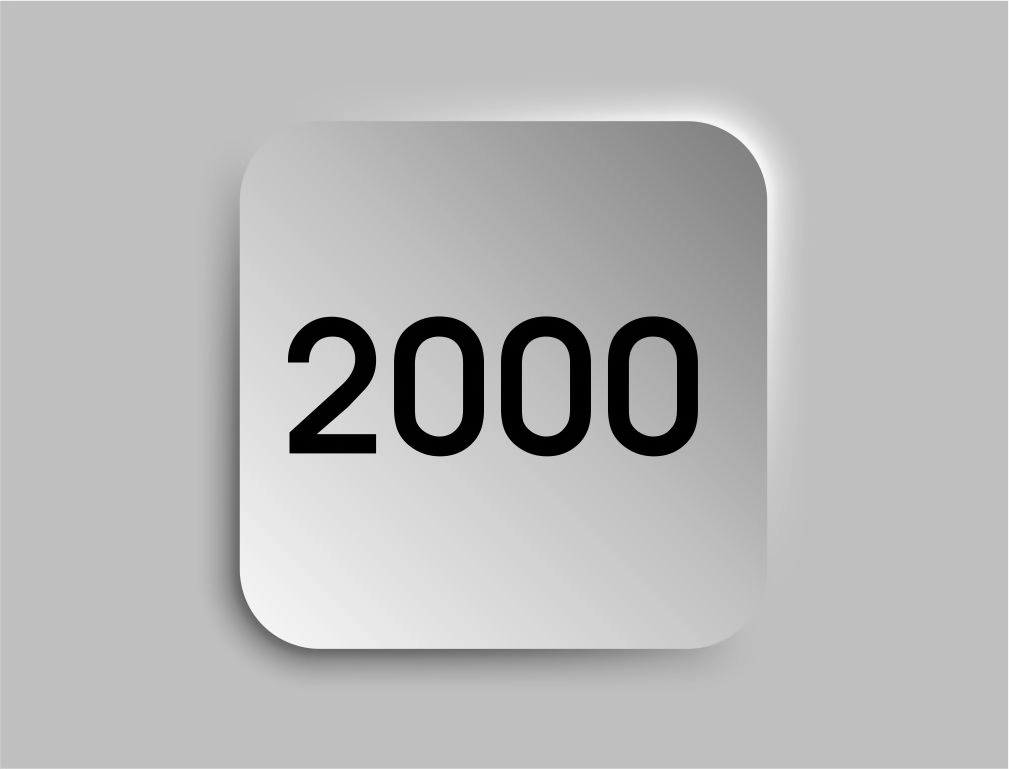 Close Coupled Pump Division & Lubi Foundry Division were awarded ISO 9 002 certification & Submersibles pump Division was awarded ISO 9001 certification by TUV, Germany.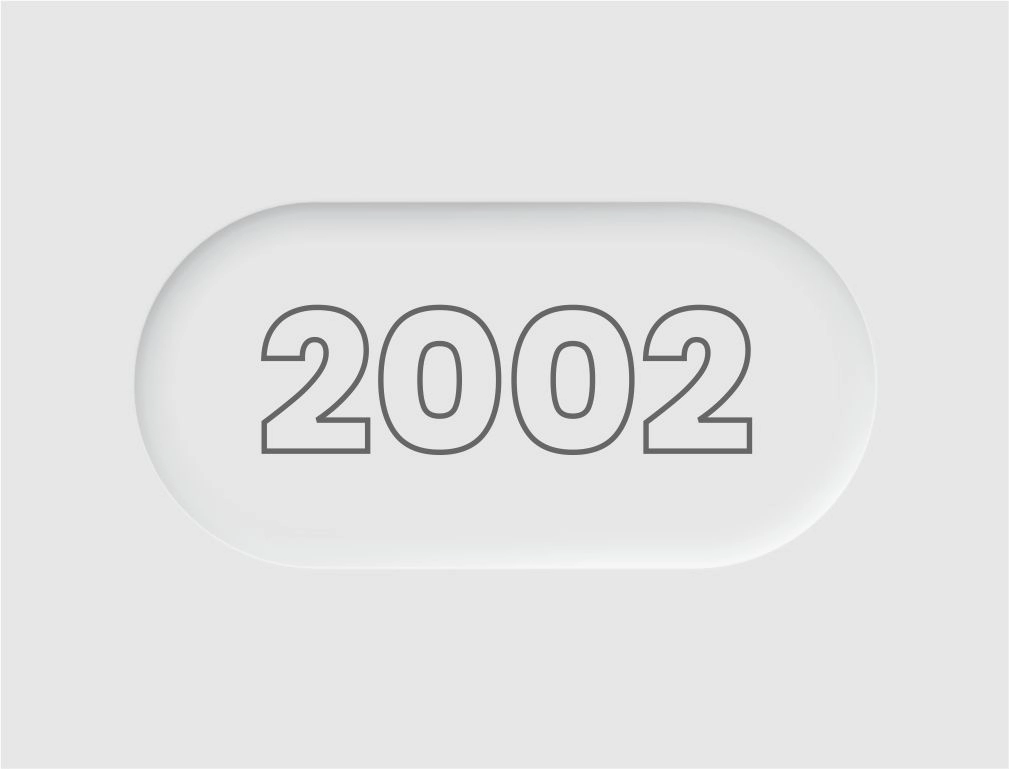 Submersibles Pump Division, Close Coupled Pump Division & Mira Industries was awarded by ISO 9001 : 2000 by TUV, Germany.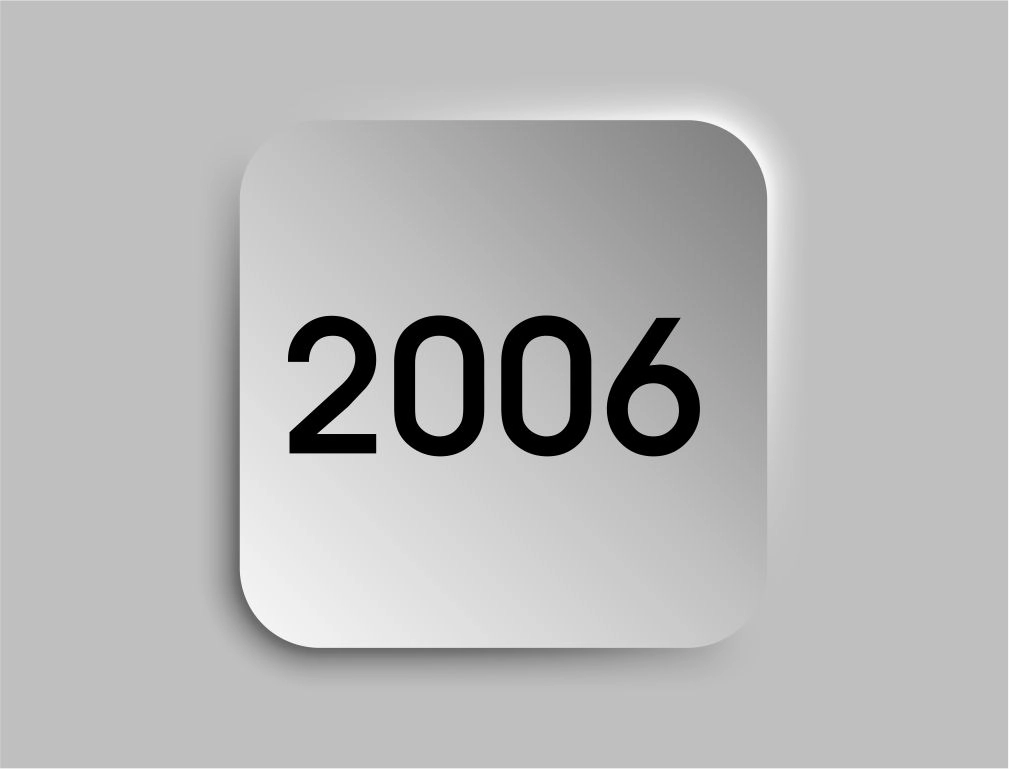 Introduced 4″, 6″ Stainless steel fabricated pumps.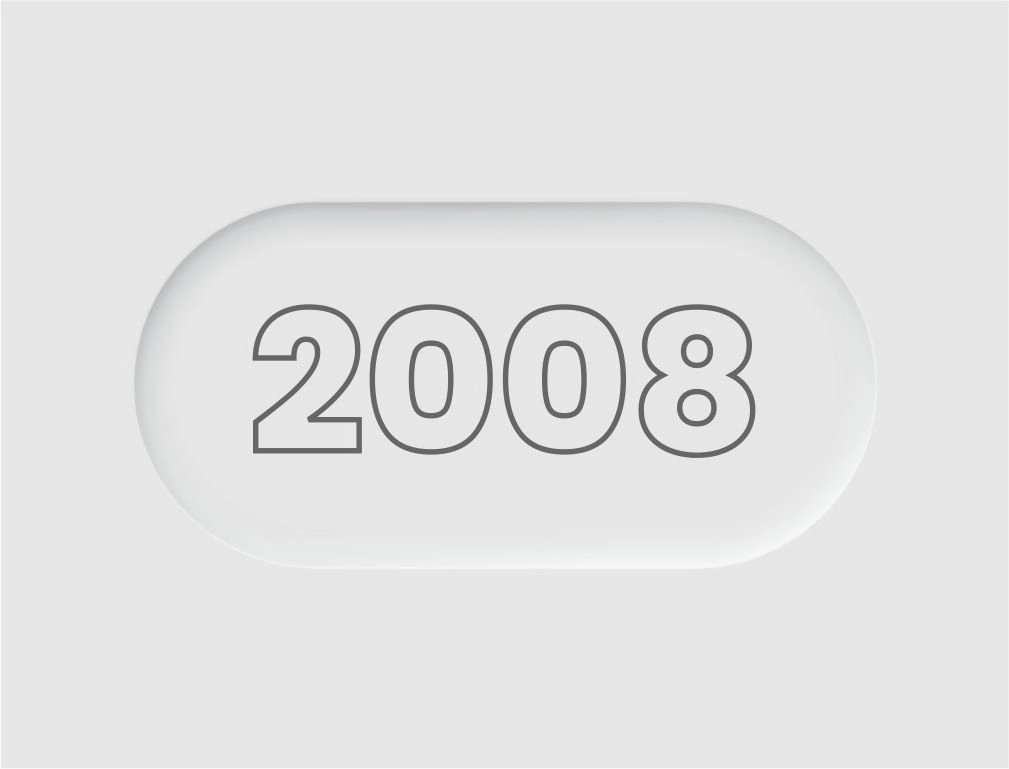 Introduced a complete range of Horizontal split case pumps.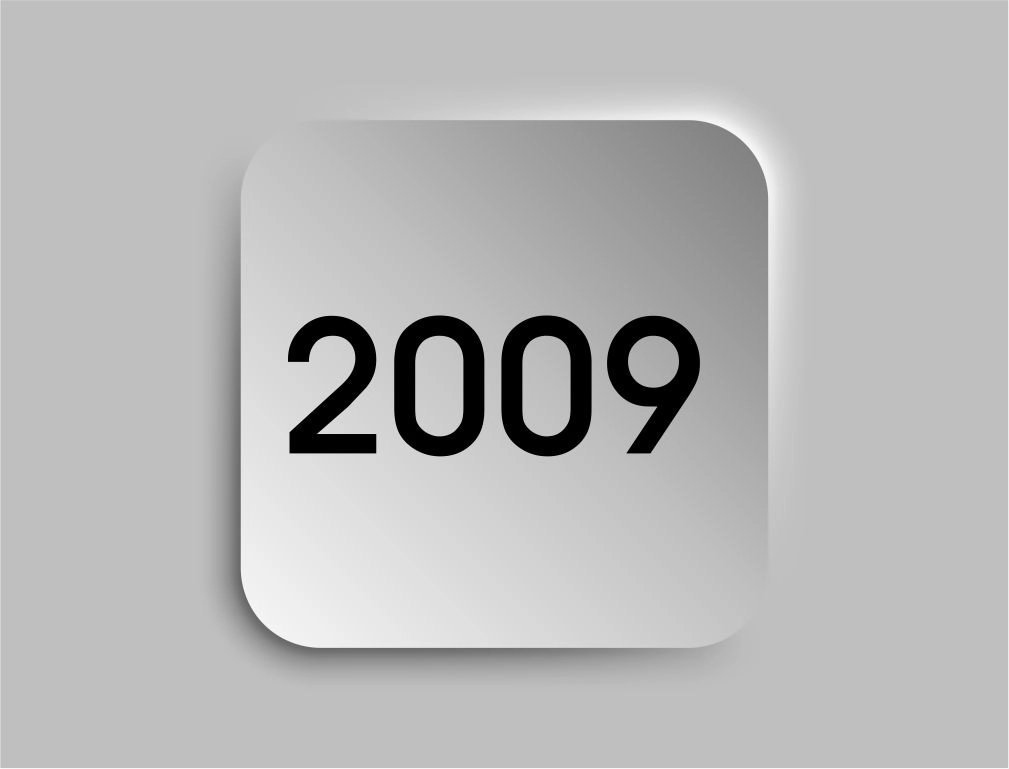 Introduced a complete range of Drainage & Sewage Pumps.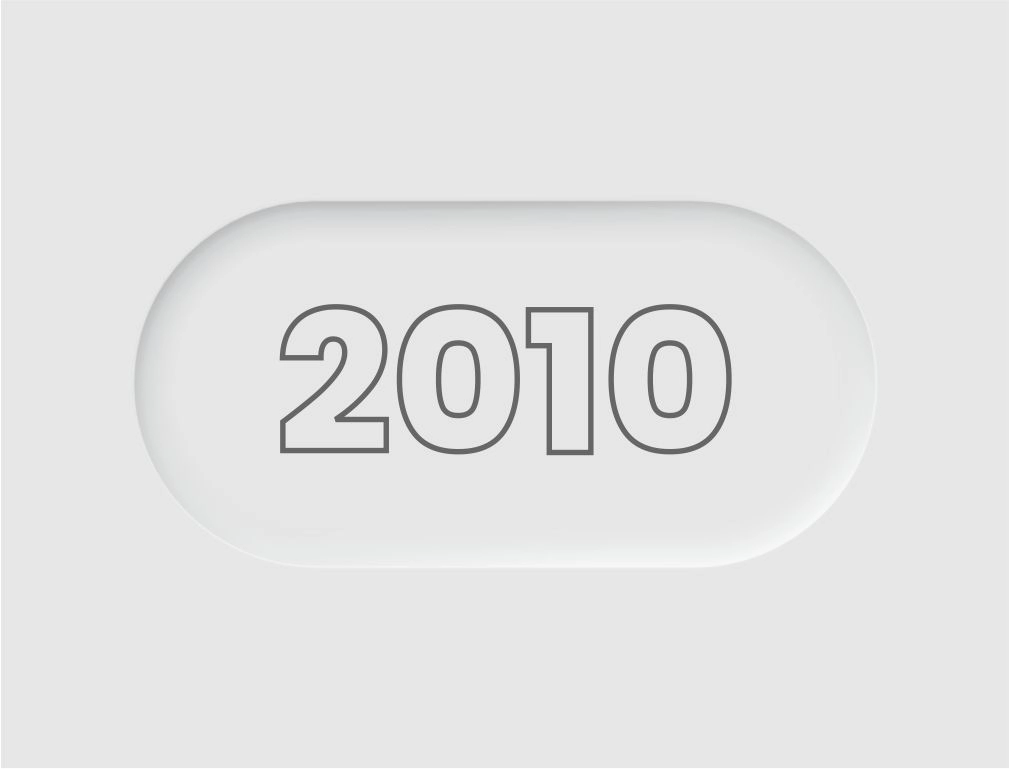 Introduced a complete range of vertical Multistage pump.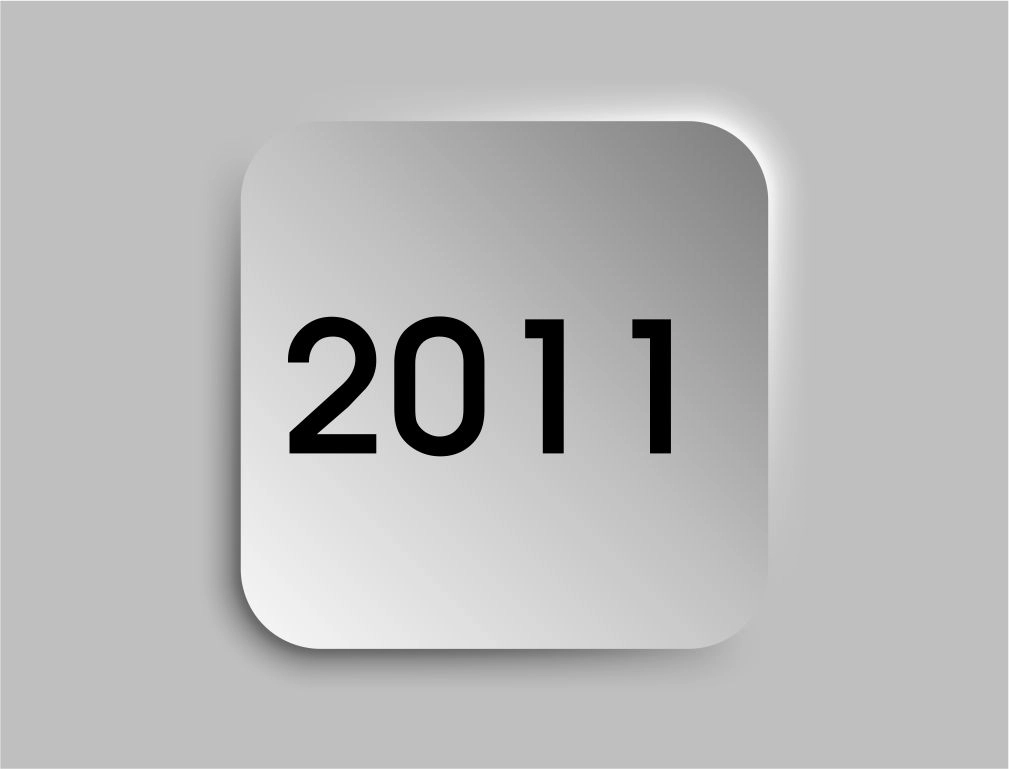 Introduced new product Vertical In line pump for HVAC & Fire fighting Market.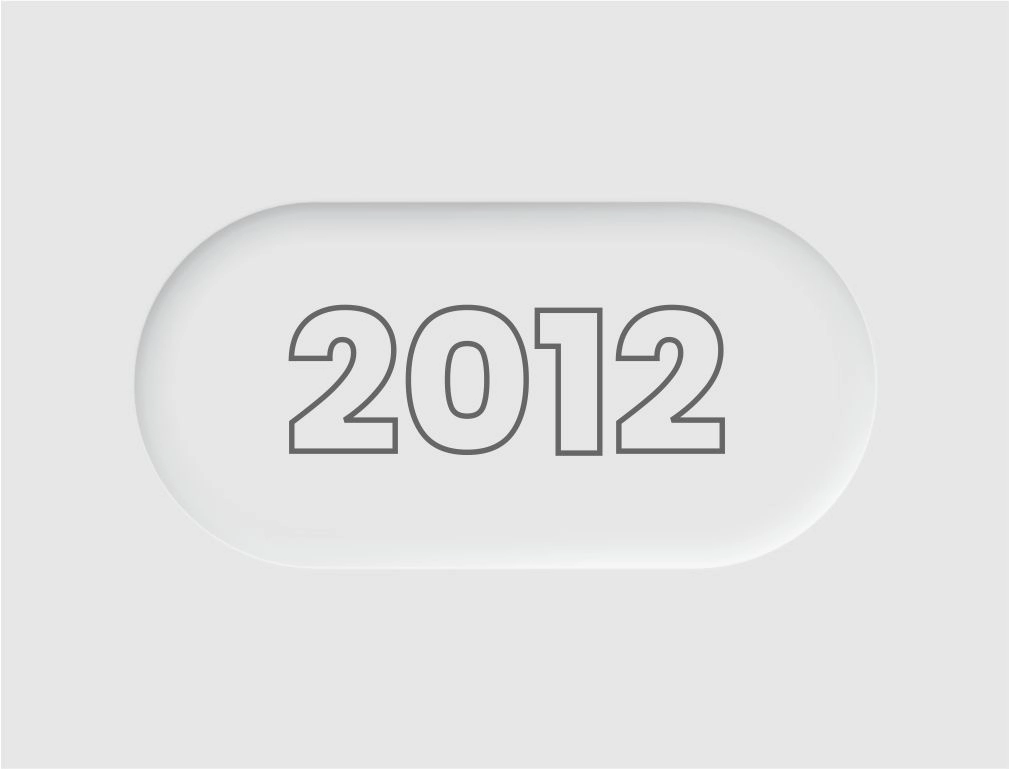 Introduced a complete range of LBSS- Stainless steel bare shaft and close coupled end- suction pump.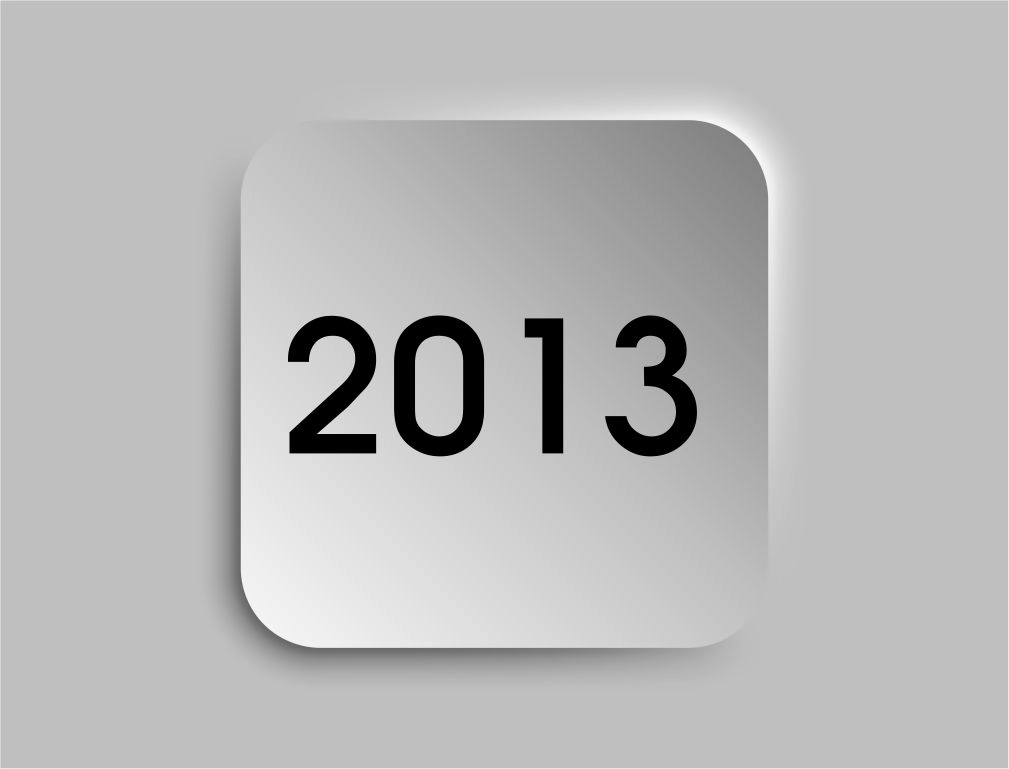 Established a new most modern CED (Cathodic Electro deposition) coating plant.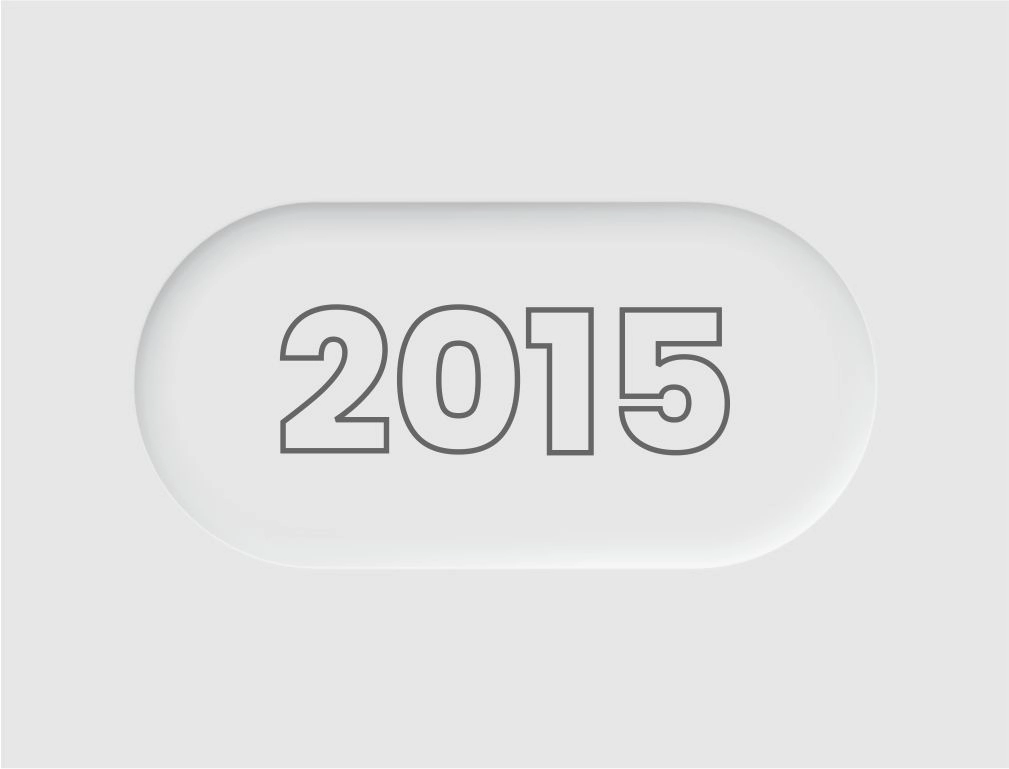 Lubi Commissions its new foundry with high pressure fully automatic molding line.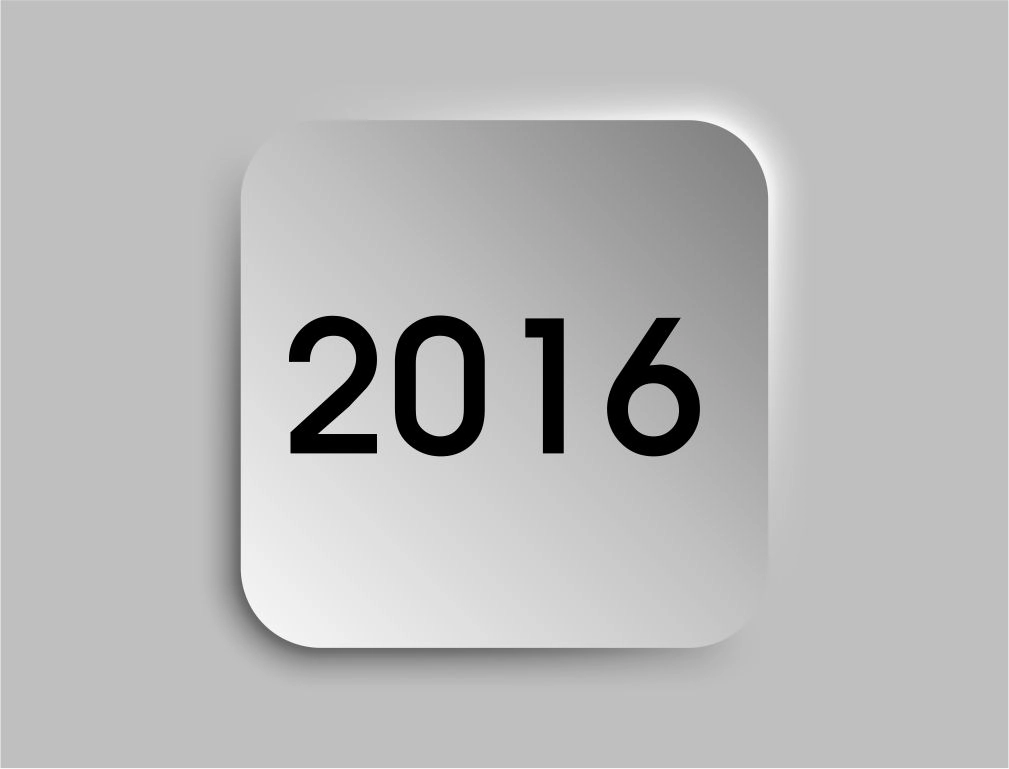 Fully Automatic Solar PV panel Plant became operational.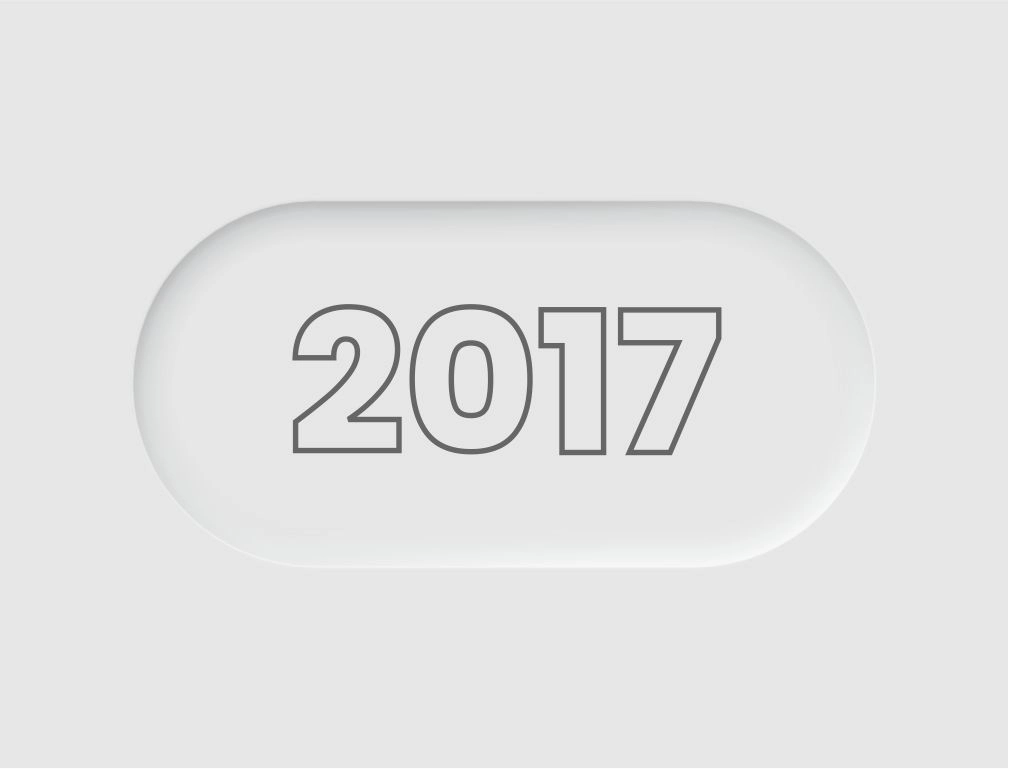 Introduced complete range of UL/FM Fire pumps – split case and end suction.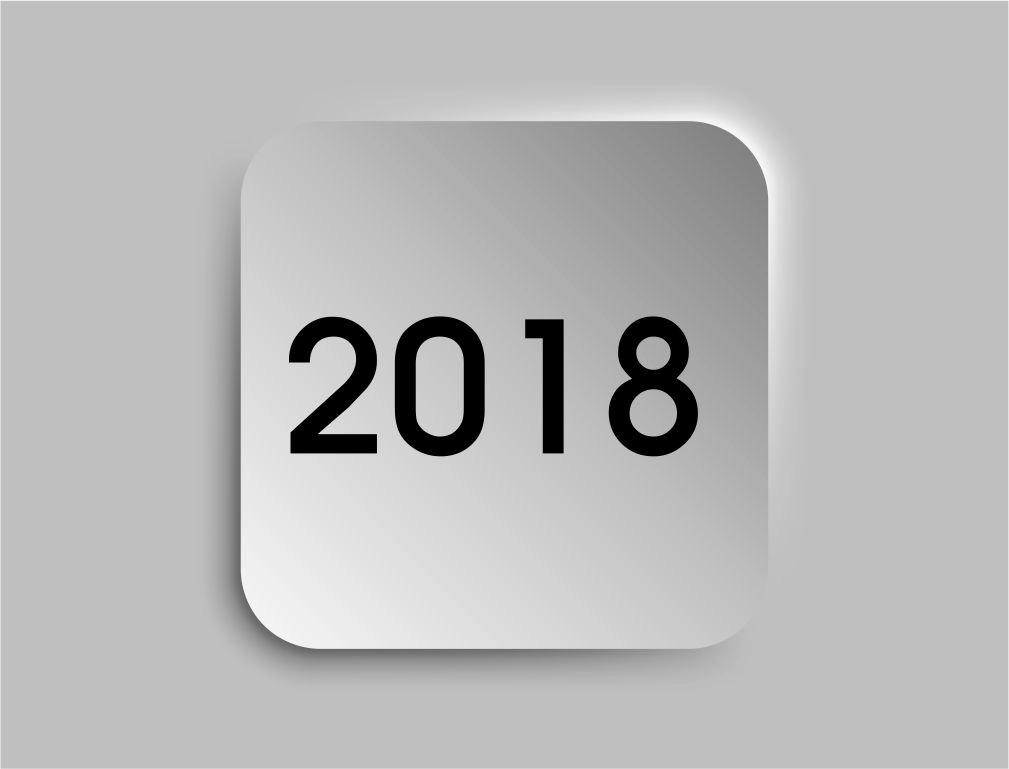 Master distribution center was commissioned.
Introduced complete range of UL Listed Fire Pump motors.
Certificates
We are proud to be ISO 9001 (Quality Management System), ISO 14001 (Environmental Management System) certified. This certification ensures that our products and services meet the most stringent quality requirements. We are dedicated to maintaining our high standards of quality, and we will continue to work hard to exceed our customers' expectations.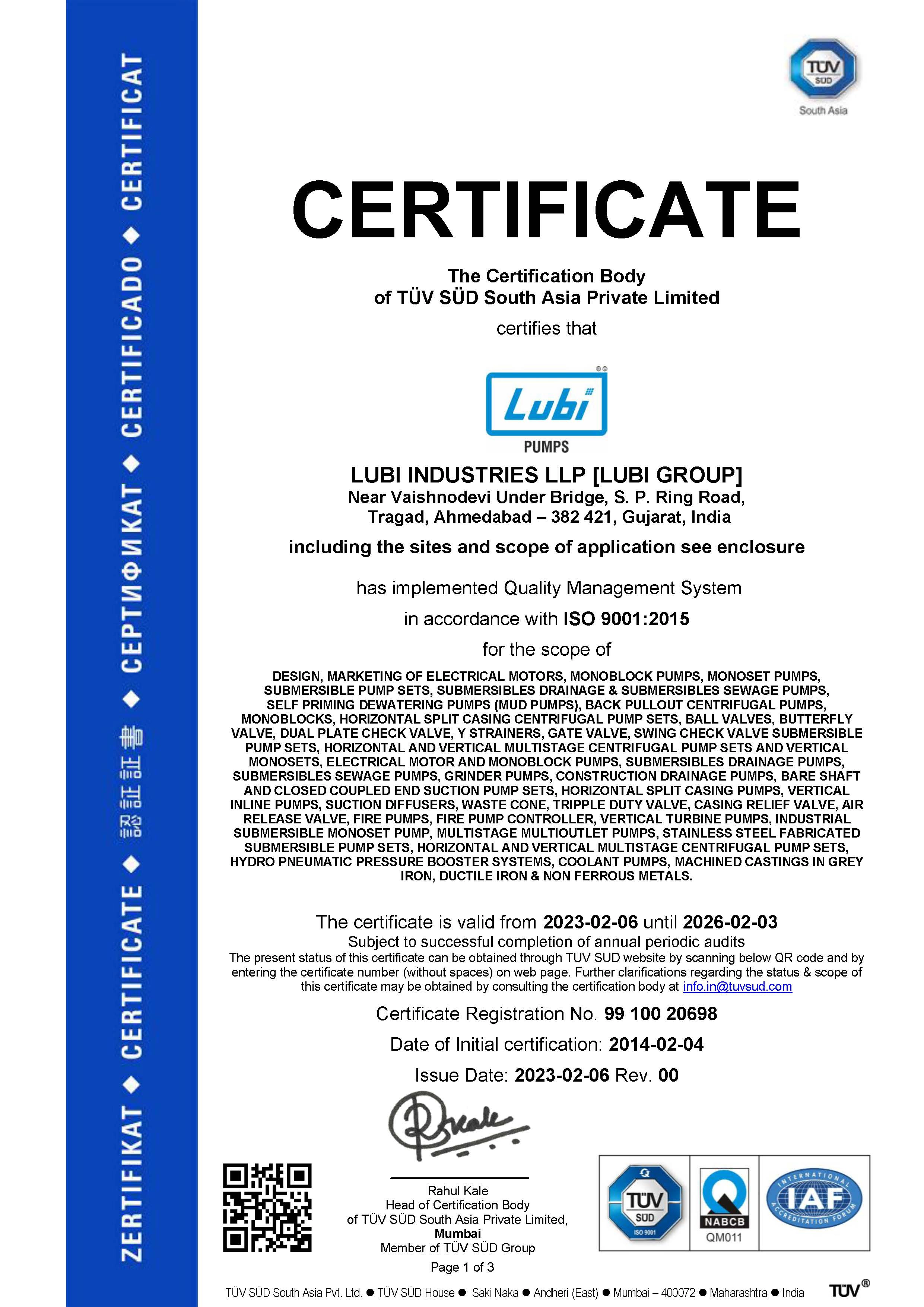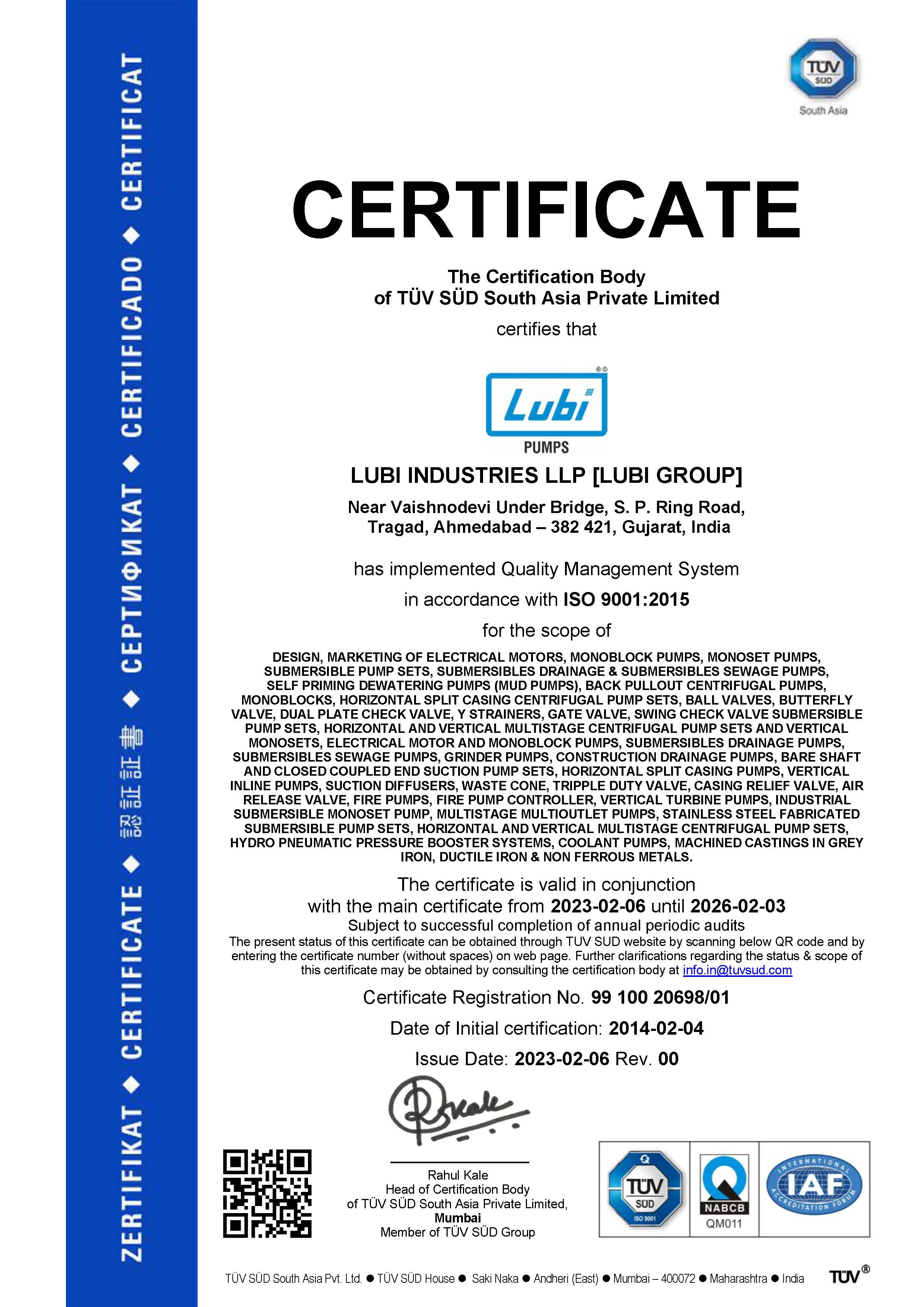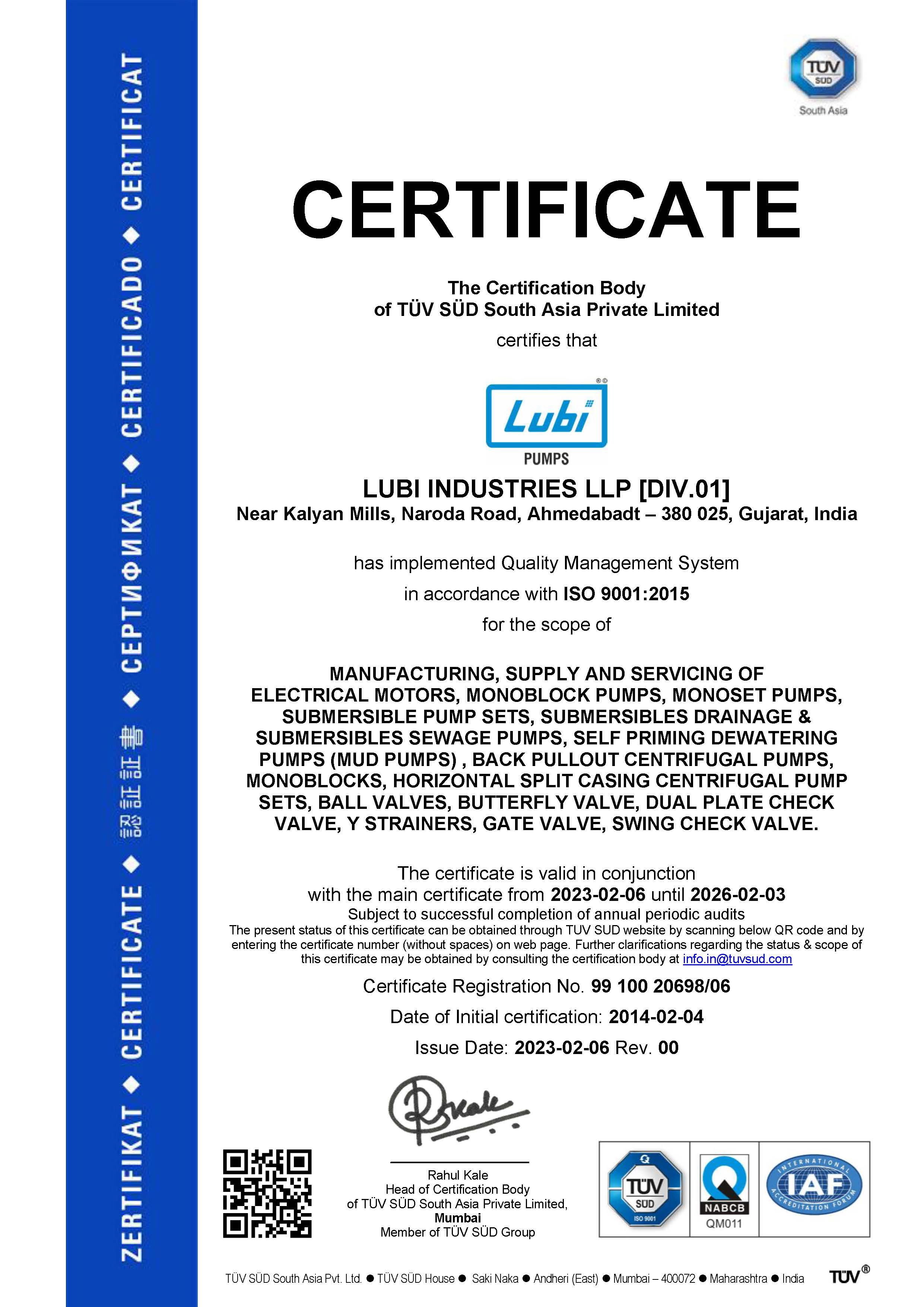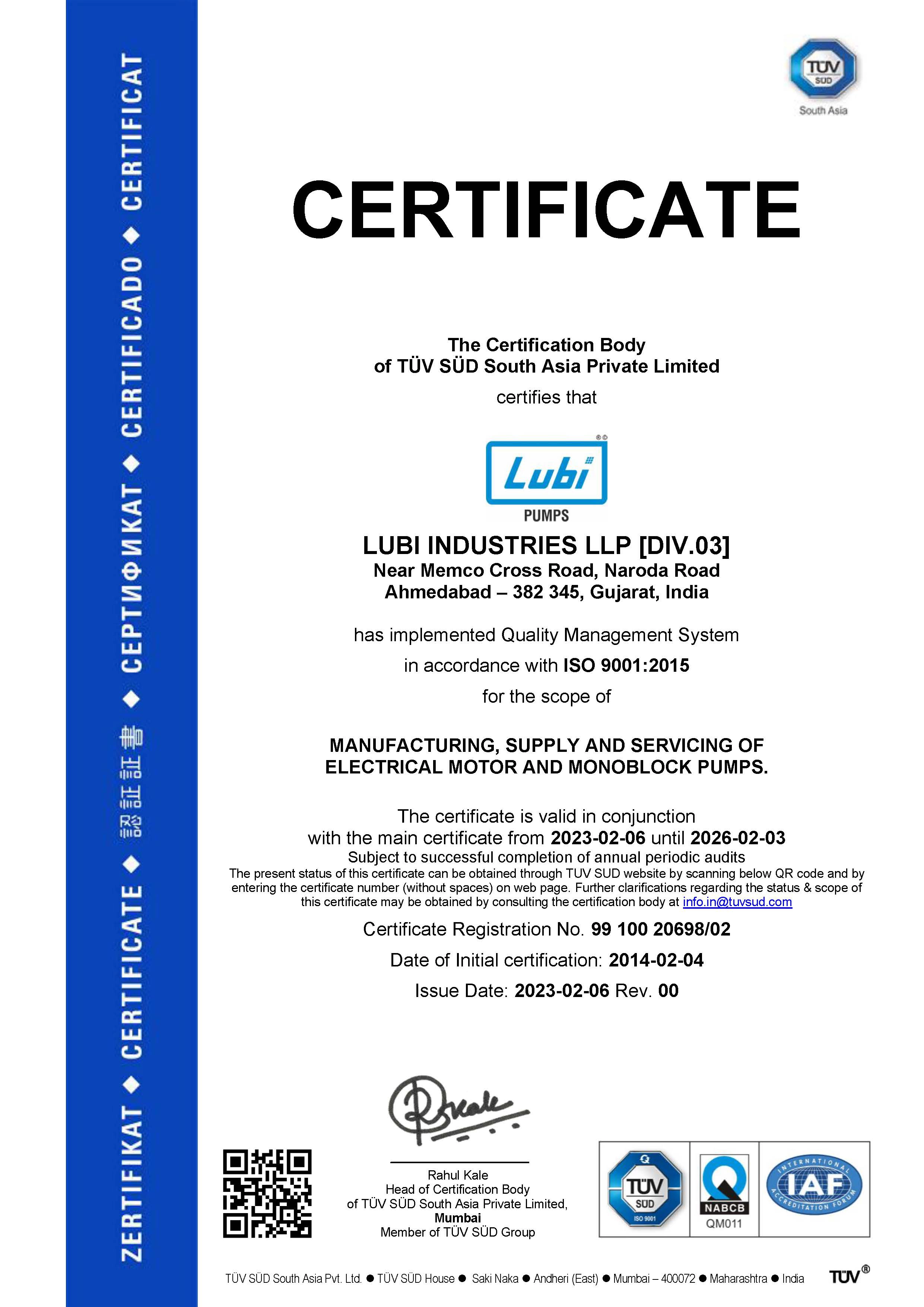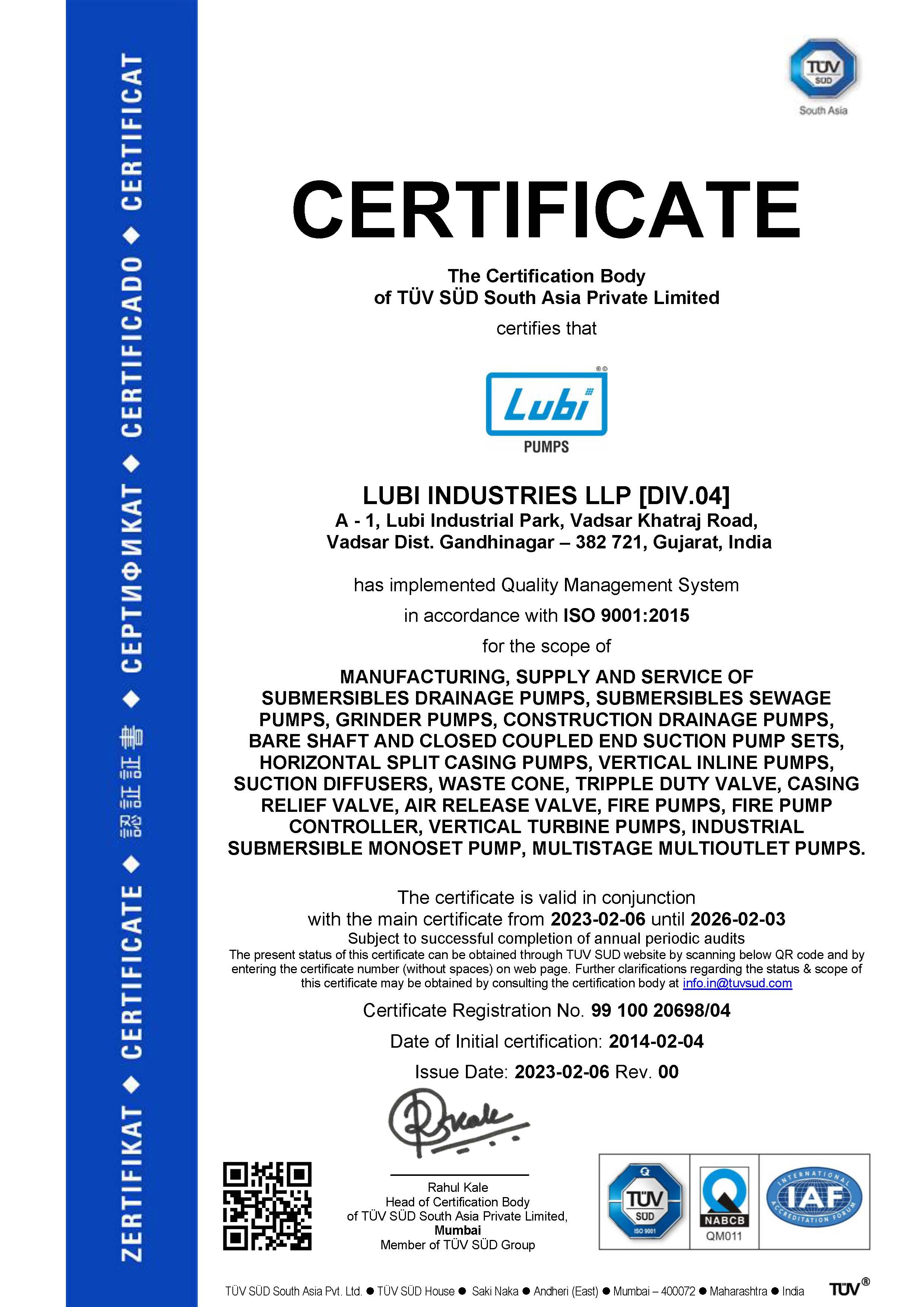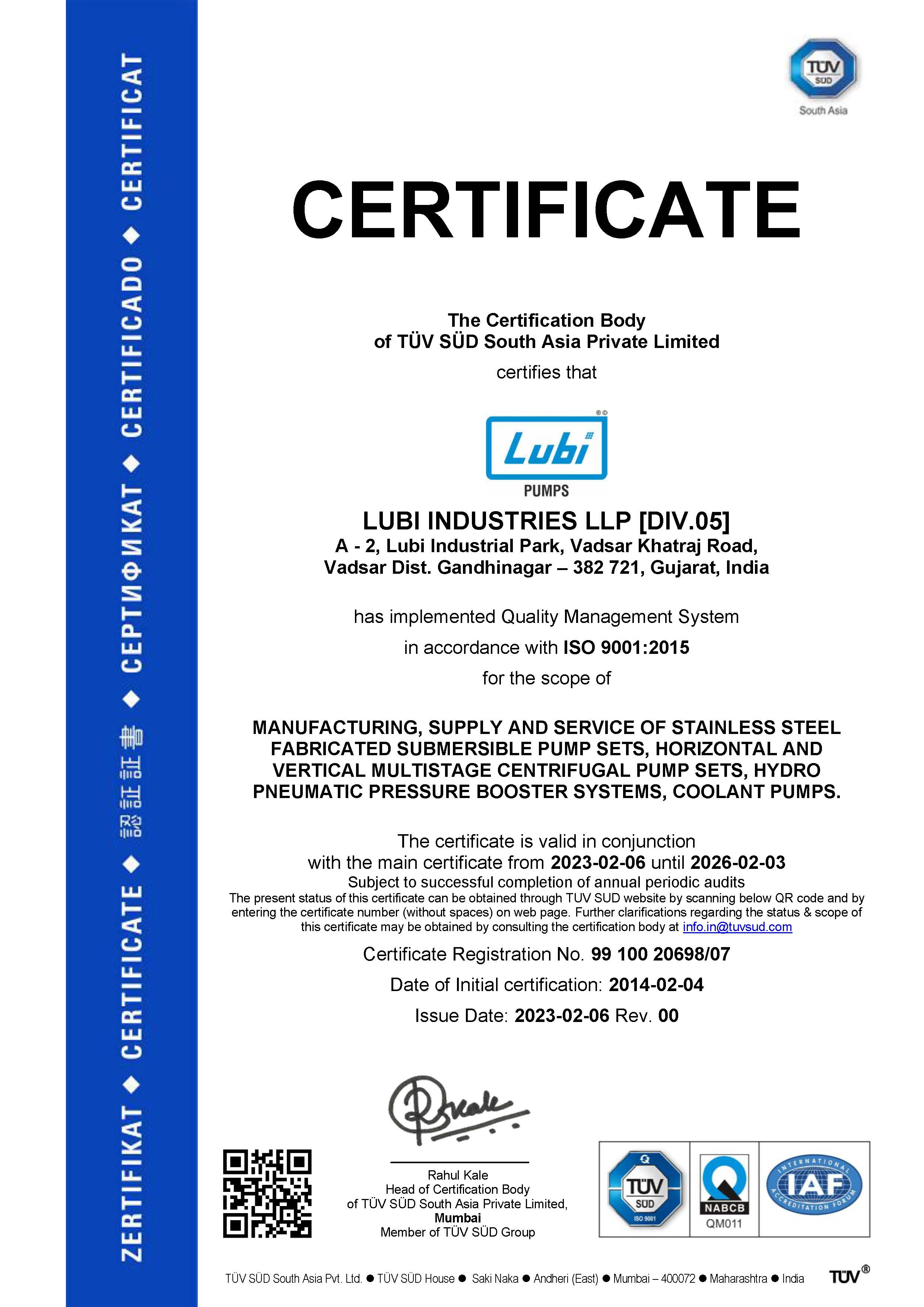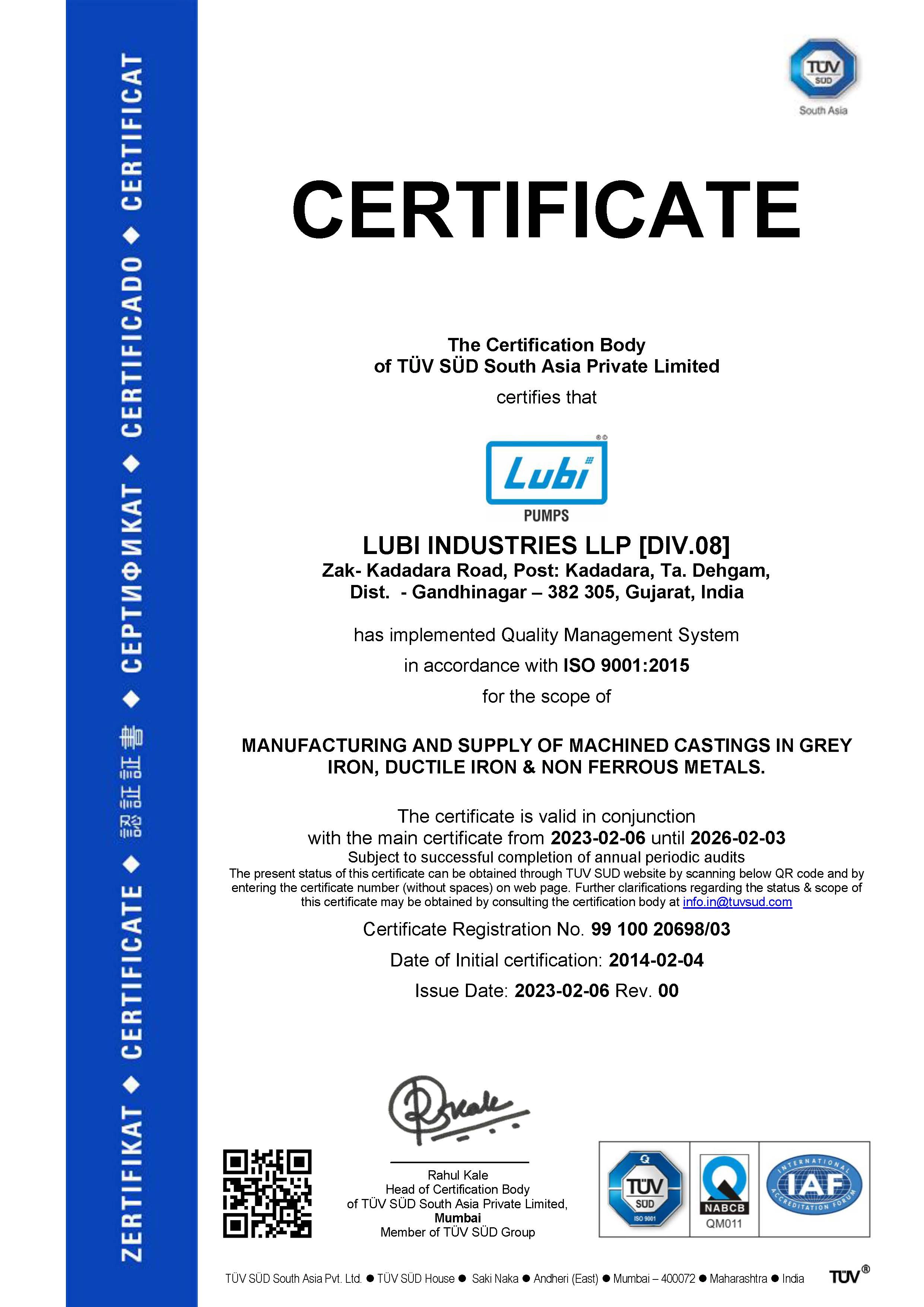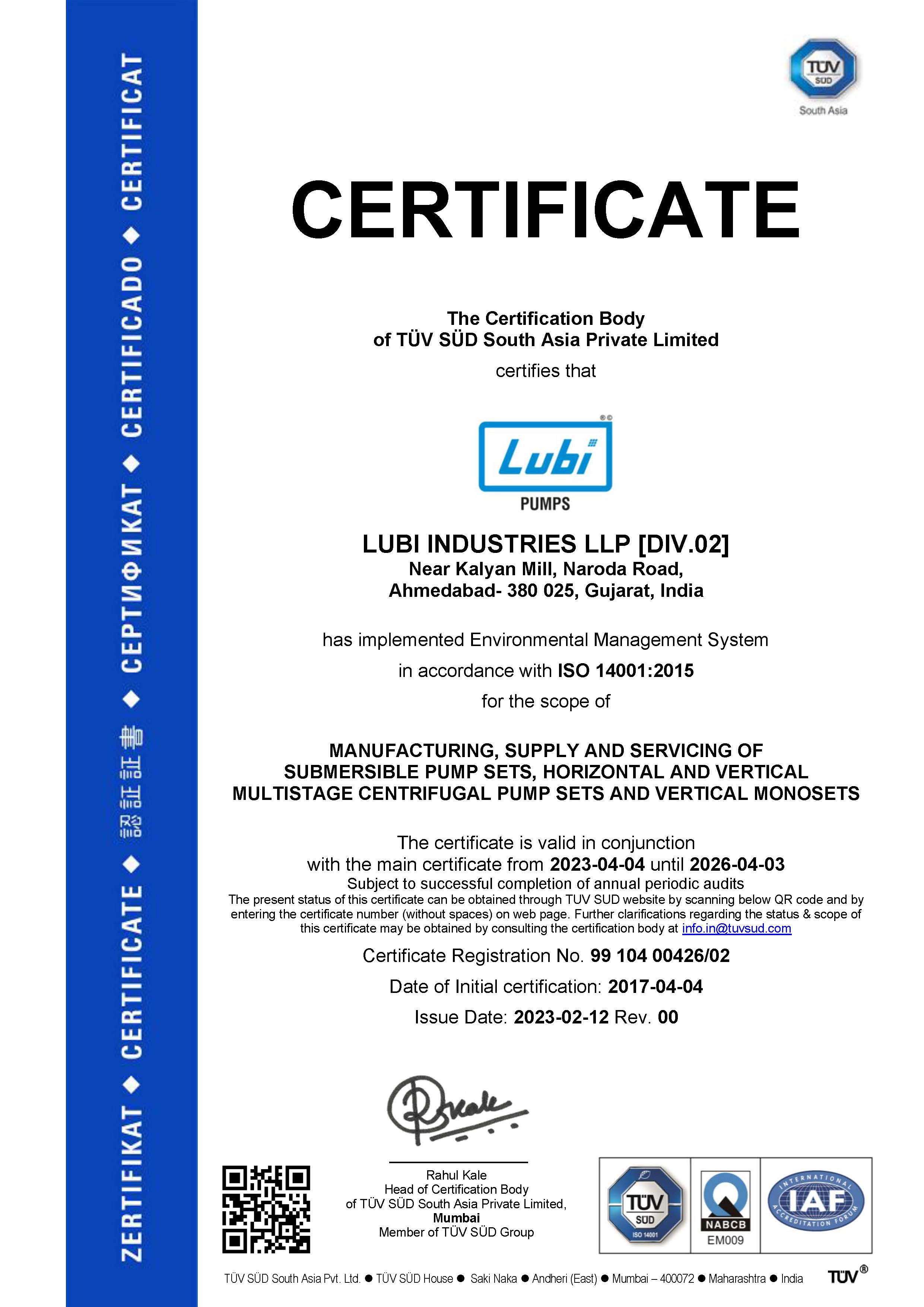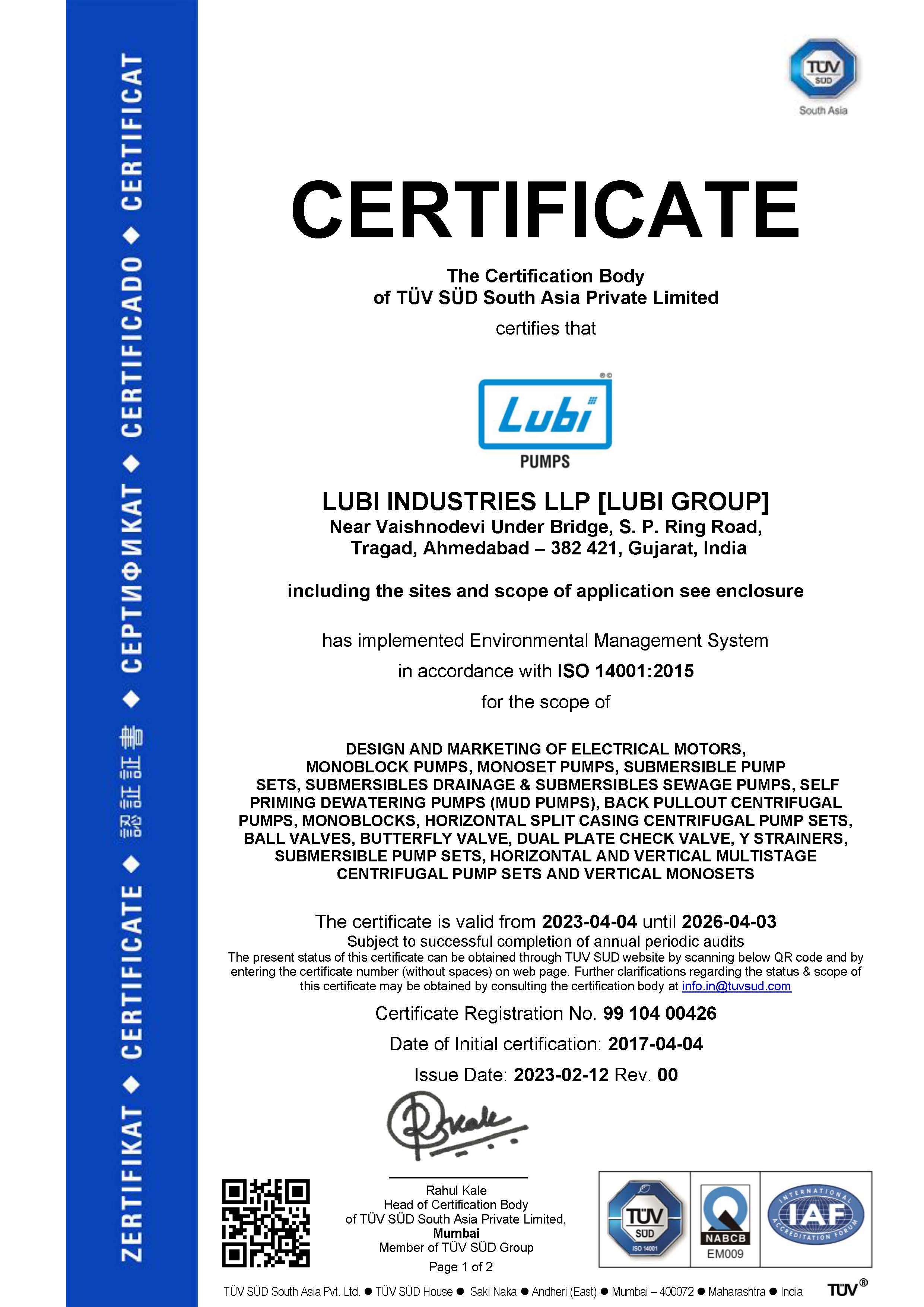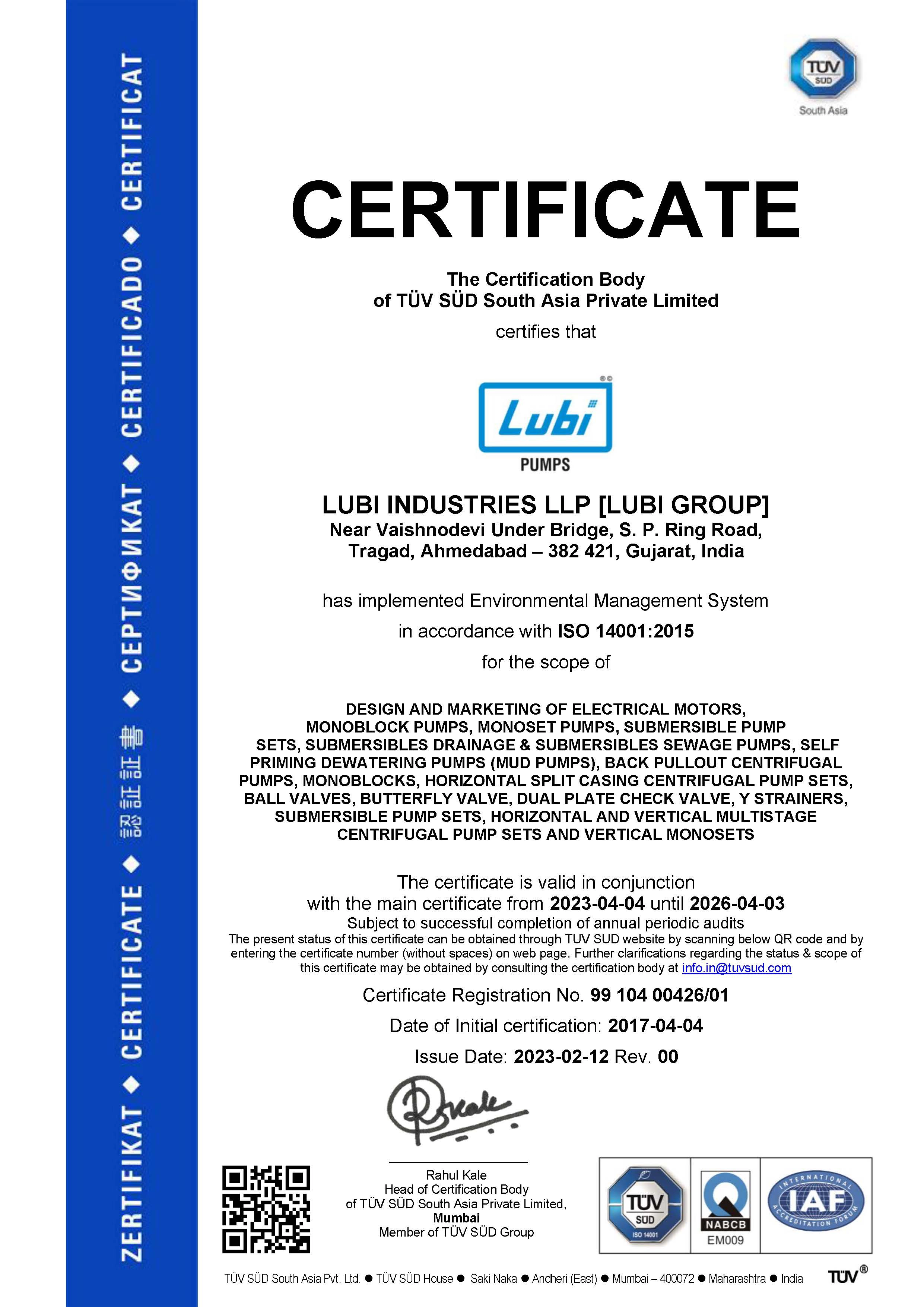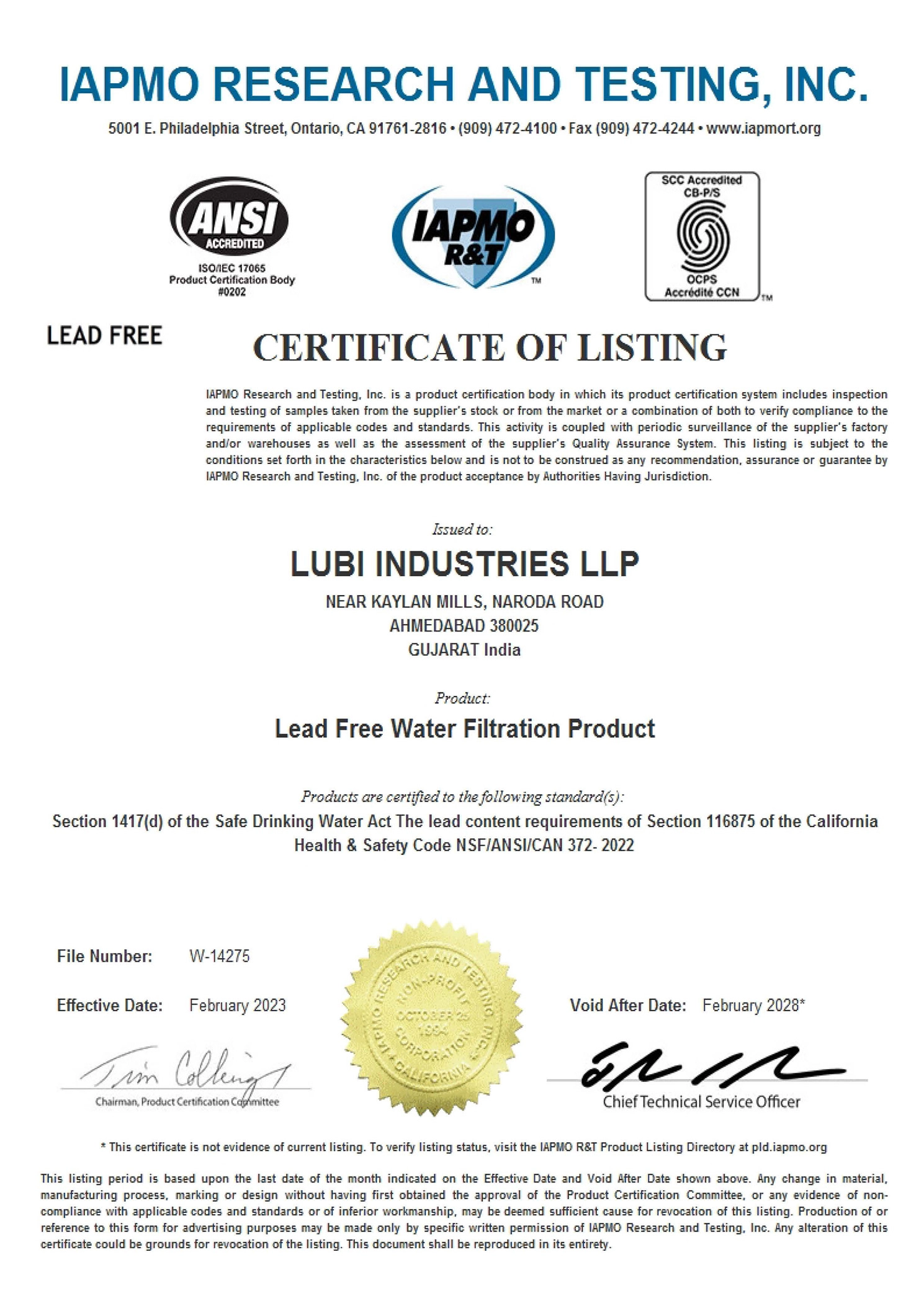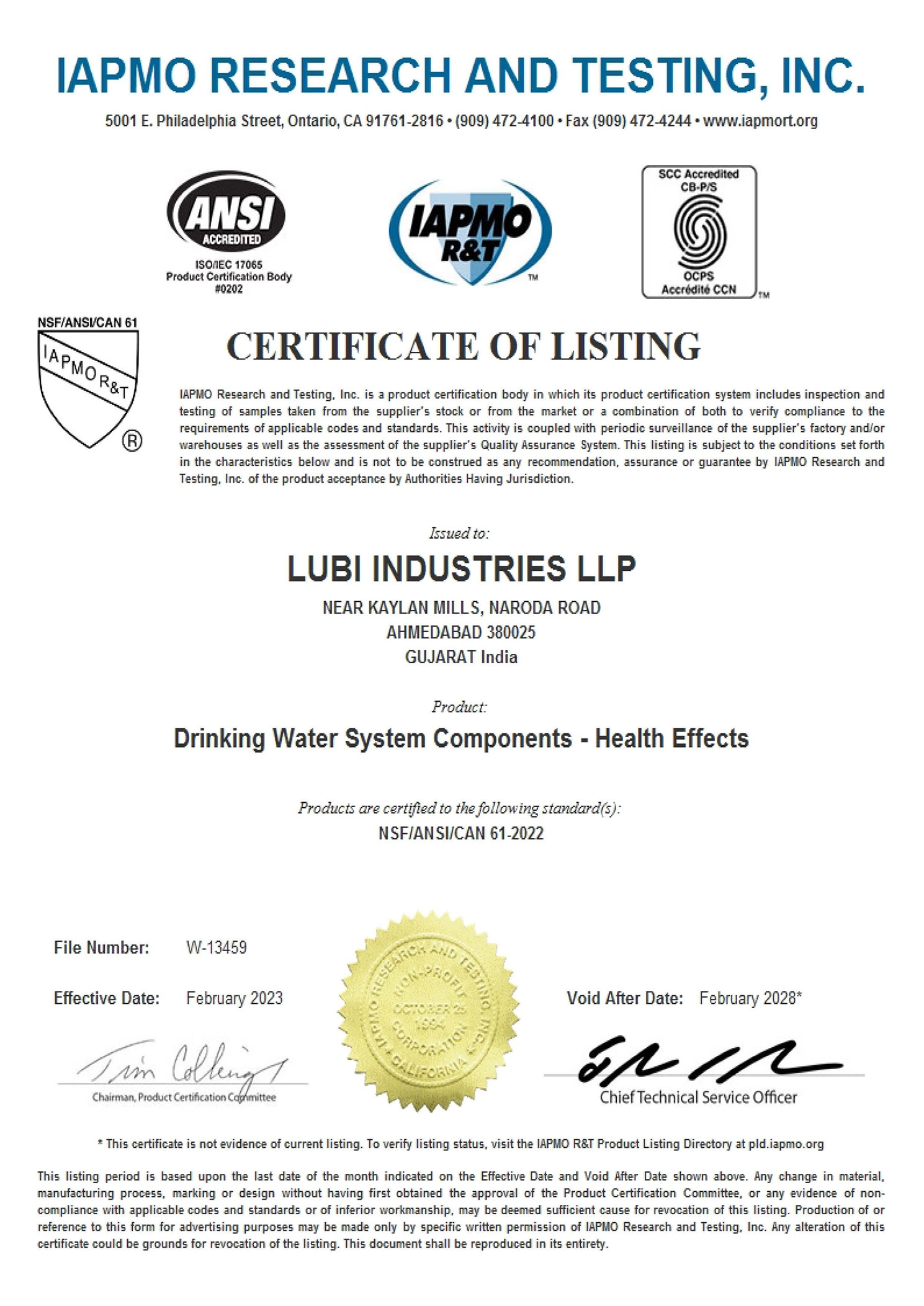 QUALITY MANAGEMENT
Our pumps and motors are manufactured according to the latest quality management standards. Our team is dedicated to continuous improvement, and we are always looking for ways to exceed our customers' expectations.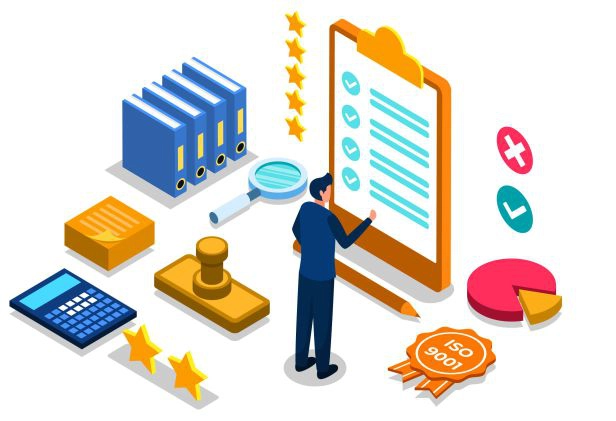 Quality Management System
All our group companies are ISO 9001 certified for quality management. This shows our commitment to provide world class quality products & services using a systems approach to quality management.

Our group wide Quality Policy shows our commitment to being a customer oriented company providing Total Customer Satisfaction.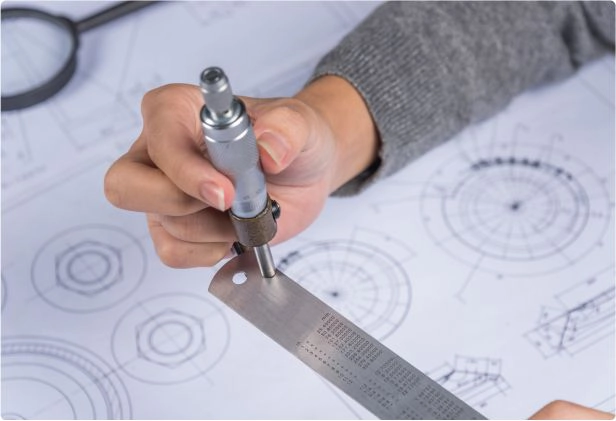 CONTINUOUS IMPROVEMENT AND CALIBRATION
We believe in continuously improving our products & services based on customer feedback & taking corrective & preventive action to see that our customers are totally satisfied.

All process control & quality , inspection instruments & equipment are regularly calibrated to International Standards to ensure that products are manufactured & delivered with consistent quality.
QUALITY FOR COST EFFECTIVENESS
At the heart of the quest for quality lies distinctive ambition leveraging productive resources for optimal possible output at the least possible cost characterized by no repeats & no rejections.

In other words it's the attainment of zero : zero defects, zero breakdown, zero accidents, zero losses.