LUBI Pumps Make a Mark at The Kisan Agri Show : Innovative Pump Technologies for Farming and Irrigation Needs
Publish Date: 20th December 2022, Tuesday
Our experience at The Kisan Agri Show in Pune was a great success and we are delighted with the response we received. We showcased our array of products, ranging from pumps to motors, from valves to cables, from EV solutions to solar energy solutions. The show was filled with enthusiastic visitors who were keen to learn about our products and explore their various features and benefits.
We had a lot of exciting activities for visitors to engage in, such as interactive demonstrations of the products and discussions about the latest technologies related to them. Our team also gave informative seminars on efficient farming methods that can be made possible by using our items. We even distributed brochures containing product specifications so that visitors could make an informed decision regarding which item best fitted their needs.
The atmosphere at The Kisan Agri Show was vibrant and bustling, with potential clients eager to talk shop and exhibitors keenly demonstrating their products. Our booth saw a steady flow of interested buyers who were curious about what we had to offer. Each product displayed generated much interest among the diverse crowd, who were left curious as to how these items could benefit their agricultural operations.
Overall, exhibiting at The Kisan Agri Show has been a positive experience for us and we are pleased with the outcome it has produced. We look forward to participating in more shows like this one in future!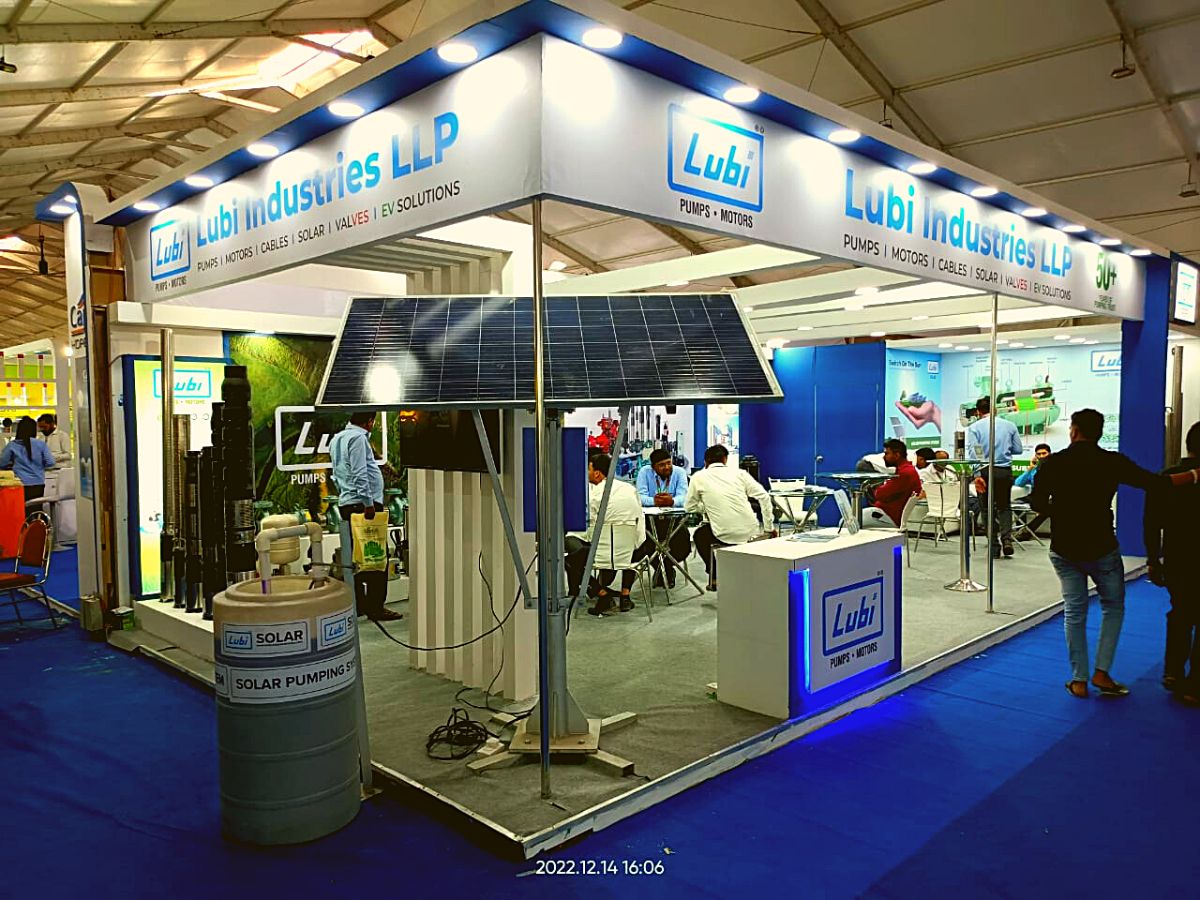 LUBI Pumps exhibiting @ The Kisan Agri Show on 14th-18th Dec 2022 at Pune, Maharashtra
Publish Date: 12th December 2022, Monday
Kisan Agri Show 14-18 December 2022 at Pune's PIECC International Exhibition Arena, Sector 5, Bhosari in Pimpari-Chinchwad, Maharashtra is a great opportunity for us to display our vast range of products and services. We are looking forward to showcasing our quality water pumps, water motors, EV solutions, valves, and solar products to the attendees. Our stall number is 313.
We are very excited to be attending this exhibition and have team of experts who will be available for consultations at the event. They will be able to answer any questions you may have about our products or services and assist you in making an informed decision. Our pumps are designed with high-quality materials that guarantee superior performance while our motors come with advanced features that deliver efficiency and effectiveness in operations. Similarly, our EV chargers feature fast charging capabilities. Our valves are designed to ensure secure flow control while our solar products can help reduce energy costs significantly.
Our experienced engineers will also demonstrate how these products can benefit you through their hands-on demonstrations at the exhibition itself. We will also have representatives available to explain the various technological advancements that we offer as well as answer any queries related to them.
To ensure customer satisfaction and convenience, we offer comprehensive customer support throughout the installation process as well as after sales service for all of our products too! You can rest assured that your investment in us is safe when purchasing from us as a result of this dedication towards providing excellent customer experience.
Come visit us at Kisan Agri Show 14-18 December 2022 Stall No 313! We look forward to meeting you there!