Publish Date: 12th December 2022, Monday
LUBI at The Smarter E India 2022: Energizing Innovation
The Smarter E India 2022, held at the Helipad Exhibition Centre, Gandhinagar, Gujarat, India, illuminated the path to a smarter energy future. This renowned expo brought together cutting-edge solutions and technologies across the solar, energy storage, and electric mobility sectors, featuring the illustrious Intersolar India – India's most pioneering exhibition and conference for the solar industry, EES India – India's leading electrical energy storage exhibition, and Power2Drive India – India's premier exhibition for electric mobility and charging solutions. Representing an assembly of three parallel energy exhibitions, it served as the melting pot for professionals from various energy domains, providing a comprehensive platform for knowledge exchange and innovation.
With over 140 exhibitors and an impressive footfall of around 9500 visitors, the expo facilitated more than 250 productive buyer-seller meetings, fostering meaningful connections for future collaborations.
We eagerly participated in The Smarter E India 2022 to directly engage with potential buyers, industry experts, and enthusiasts. Our focus was clear - to present our top-quality energy-efficient Electric Vehicle (EV) Chargers to a diverse audience. The expo provided the perfect stage to share our vision of creating smarter and more sustainable energy solutions, specifically tailored to India's dynamic energy landscape.
Our Stall No. I-165 (Hall No. 2), at The Smarter E India 2022 was adorned with an array of revolutionary EV charging solutions. We showcased a comprehensive range of energy-efficient EV Chargers, including AC Chargers, DC Chargers, and Combination Chargers, all compliant with Indian and international standards.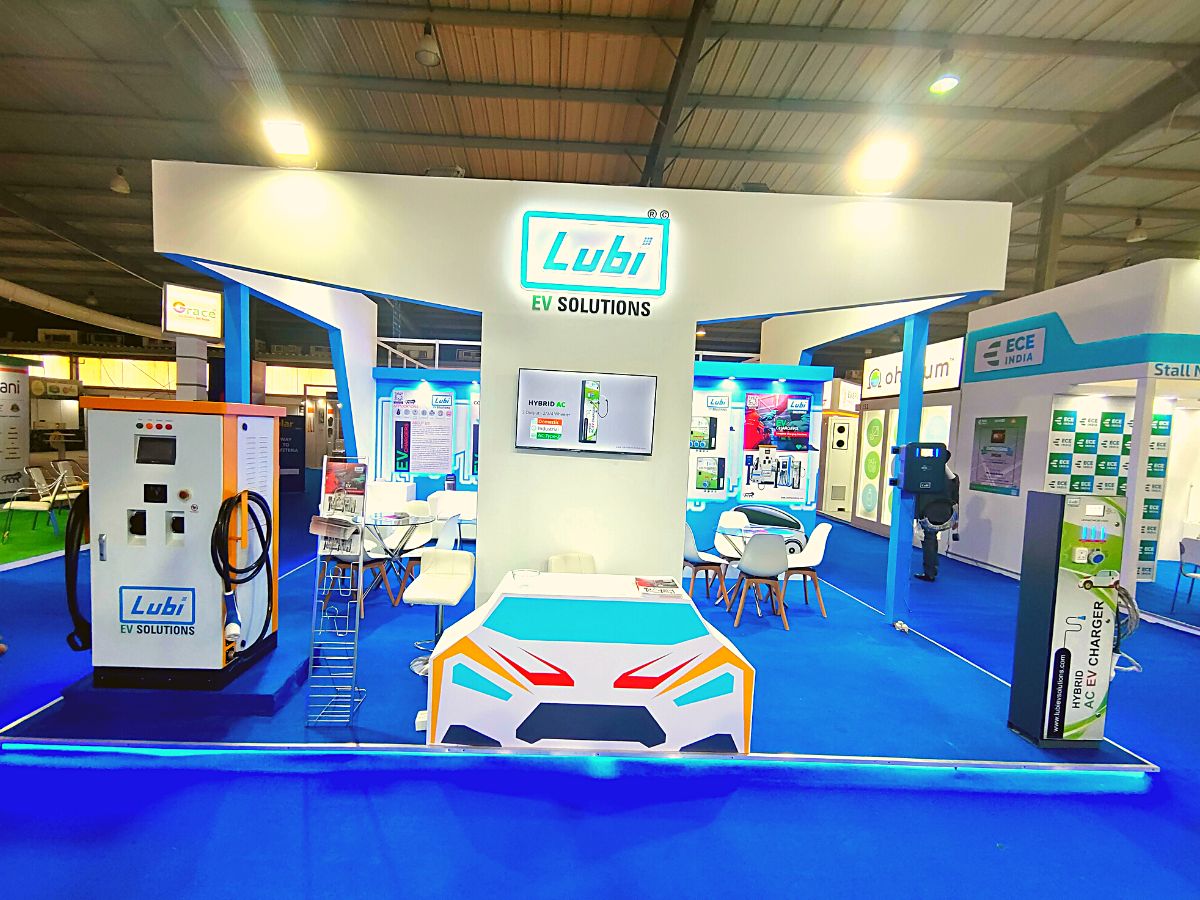 AC Chargers: Our AC Chargers, available in power ranges from 3.5 kW to 44 kW, meet IEC 62196-2 standards. These chargers cater to a wide range of four-wheelers and are designed to endure Indian environmental conditions. Our Central Management System (CMS) simplifies operations, allowing customers to monitor, operate, and track charger utilization seamlessly.
DC Chargers: Our DC Chargers are versatile and efficient, supporting a voltage range of 100V to 750V in various standards like CHAdeMO, CCS, and BHARAT DC 001. These chargers are engineered for durability and low power costs. Our CMS enhances user experience with easy monitoring, operation, and payment tracking.
Combination Chargers: Our Combination Chargers bring together the best of AC and DC charging capabilities. With a voltage range of 100V to 750V in CCS, CHAdeMO, and 230V 1-Ph / 400V 3-Ph in AC Type-2, these chargers cater to a diverse range of electrical automobiles. The LUBI CMS ensures efficient management and operation.
Our products are designed to make charging accessible, efficient, and cost-effective for all. We believe in the potential of EVs to transform the future of mobility in India.
Participating in The Smarter E India 2022 has yielded substantial benefits for us. Beyond the impressive footfall, we had the privilege of engaging with industry leaders in the EV sector. This opportunity allowed us to gain insights and form valuable relationships that continue to benefit our operations. Collaboration with fellow exhibitors was equally fruitful, as it fostered idea exchange and resource sharing, strengthening our position in the EV charging solutions market.
Our participation at the expo helped us generate numerous leads, all of which we have been actively following up on. Through informative presentations, we had the chance to showcase our products and highlight their advantages over existing market offerings. This not only created awareness among attendees but also piqued their interest in our solutions.
We, at LUBI, extend our heartfelt thanks to Messe Muenchen India Pvt. Ltd. for organizing this inspiring event. We also express our sincere appreciation to every individual who visited our stall, showing keen interest in our solutions. Your support and enthusiasm continue to drive us to innovate and provide sustainable energy solutions that power tomorrow.
We remain committed to leading the charge towards a brighter, cleaner, and more sustainable energy future in India. Stay tuned for more innovations and breakthroughs as we strive to redefine energy excellence.